As a digital trade fair, Heinze ArchitekTOUR 2021 presents "Perspectives on Building for Tomorrow" for four weeks.
On the very opening day, 19 April 2021, Eller + Eller Architekten were represented with two contributions.
First, Erasmus Eller gave a keynote speech about the campus as a typology for modern working environments. Afterwards, the audience got to know our Düsseldorf project "MIZAL Creative Campus WPP" better; as a virtual stage for the topic "Urban Spaces and Parking Solutions" discussed together with Lödige Industries and Codic Development.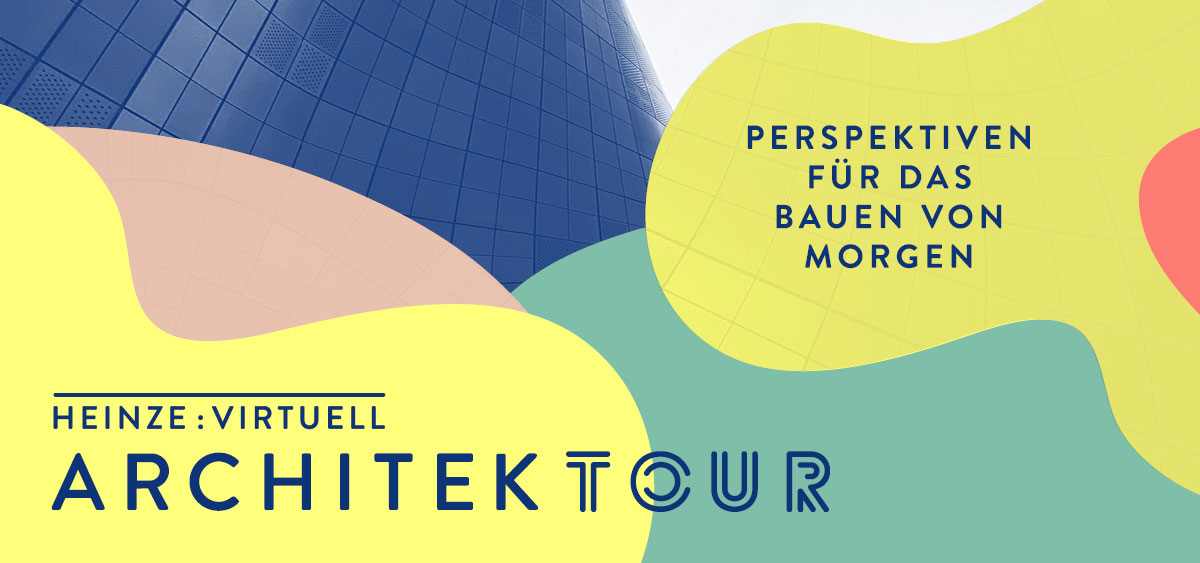 In an interview with Klaus G. Füner, Erasmus Eller talks about his origins, his path and his goals. Eller + Eller Architekten, second generation and founded almost 60 years ago as Eller Moser Walter, have gone where the work is as architects. The saying "The architect is a nomad", coined by Prof. Fritz Eller, also influenced Erasmus Eller. After studying architecture, he went abroad to gain his own experience and set up an office in Moscow. Today, the most distant construction site is in Jakarta, Indonesia, with the construction of the residence of the German Ambassador. Construction of the "Siemens Healthineers Campus" in Bengaluru, India's Silicon Valley, is scheduled to begin in 2021 after the competition has just been won. But for him and his wife Christiane Flasche, home remains Europe with its ideal conditions as a location for an architectural office.
Klaus G. Füner visited Eller + Eller Architekten in Düsseldorf in March 2021 for this interview. For Heinze he conceives and realises the format "Heinze ArchitekTOUR", a (virtual) series of trade fairs and events.
The video shows an excerpt from the interview.
"On the power of vision - the campus as a typology for modern working worlds" with Erasmus Eller
Work environments are undergoing disruptive change, and the Covid 19 pandemic is acting as an additional catalyst. Concentrated individual work will increasingly shift to the home office. For the creative and successful team, however, the office continues to play the decisive role as a central place of meeting and interaction.
The human encounter is a central driver for entrepreneurial success. It is not only the planned meeting of people that enables the interdisciplinary exchange of ideas and opinions. It is also the unplanned communication in an environment designed for circulation, connectivity and collaboration that provokes important impulses for successfully dealing with challenges and supports innovation and further development.
In his keynote speech, Erasmus Eller explains how the "campus" as a typological approach to built corporate culture can also support corporate success at a higher level and what power the vision of modern working worlds can develop in the joint planning process with clients and users – also using the example of the "MIZAL Creative Campus WPP" in Düsseldorf.
The architecture journalist, author and blogger Kerstin Kuhnekath also summarises the event days of the Heinze ArchitekTOUR for the Heinze podcast "Architekturfunk". In her contribution of 19.04.2021, starting at minute 06:32, she presents Erasmus Eller's key statements from his lecture "On the Power of Vision".
"Urban spaces and parking solutions - using the example of automated parking in the MIZAL Creative Campus WPP".
Why did Eller + Eller Architekten and Codic Development, as developers of the MIZAL Creative Campus WPP in Düsseldorf, opt for an automatic parking system?
The project video created for the Heinze ArchitekTOUR provides important insights into the conception and planning of the MIZAL Campus in Düsseldorf. Among other things, Germany's largest automatic parking system is being built there and is currently being installed on site. Eller + Eller Architekten and CODIC Development GmbH explain in detail why they chose an automatic parking system for this project. Above all, the aspects of environmental awareness, an unparalleled user experience and state-of-the-art technology were important decision-makers.
If you do not have the opportunity to watch the event broadcast live via the internet, you can access the video recordings again afterwards in the Heinze Media Library.
Information and registration for free participation in the ArchitekTOUR:
https://event.heinze.de/virtuelletour/
Heinze's compact question and answer format "Lift or Stairs" is carried out with all interview partners and then used as a pre-announcement of the individual technical papers. Here Erasmus Eller answers Klaus G. Füner's questions.