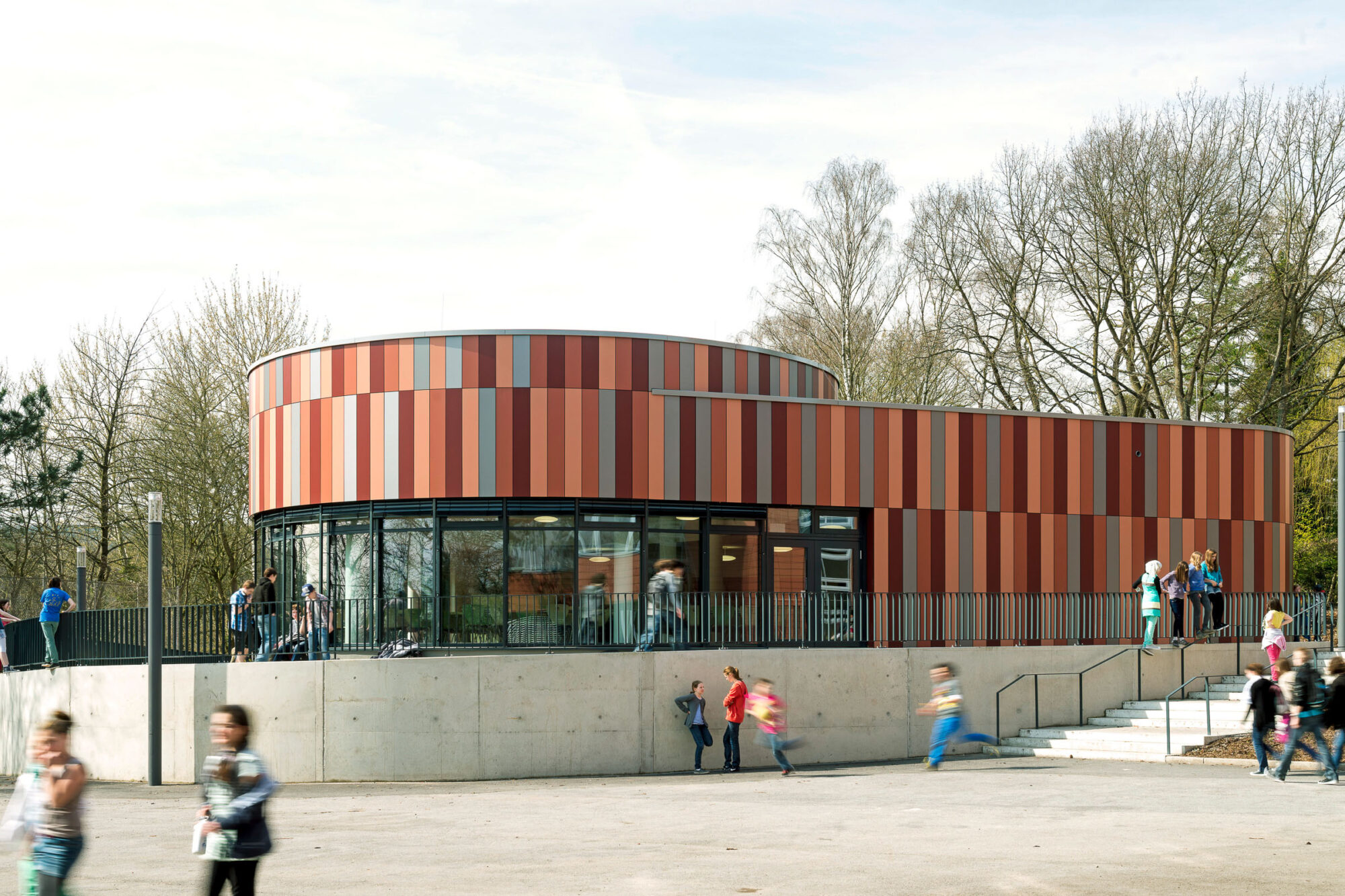 Within the framework of the shortening of school hours G8, pupils must also be looked after over lunch. Those responsible in Aachen recognised early on that moving chairs and tables together was not enough for this important issue. The city has therefore developed an investment programme to create refectories.
One example of special quality is the newly built canteen of the Couven Gymnasium.
The cafeteria as a solitaire replaces a small pavilion from the 1970s in the upper schoolyard. Due to the topography with a height difference of about two metres, the refectory stands on a small plateau opposite a three-storey part of the existing grammar school. The entrance to the refectory is centrally located to the schoolyard. A wide ramp connects the lower and upper schoolyard without barriers.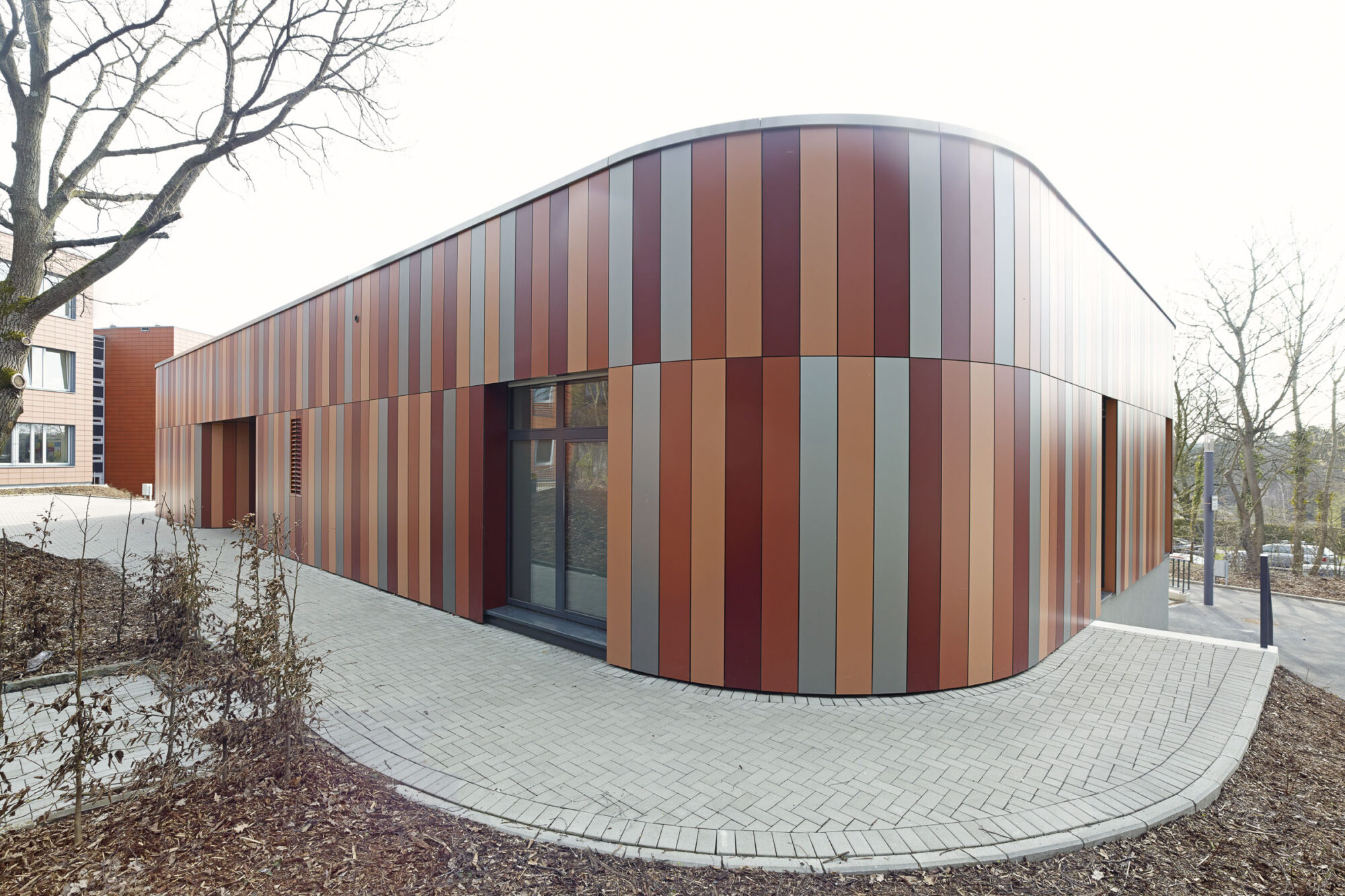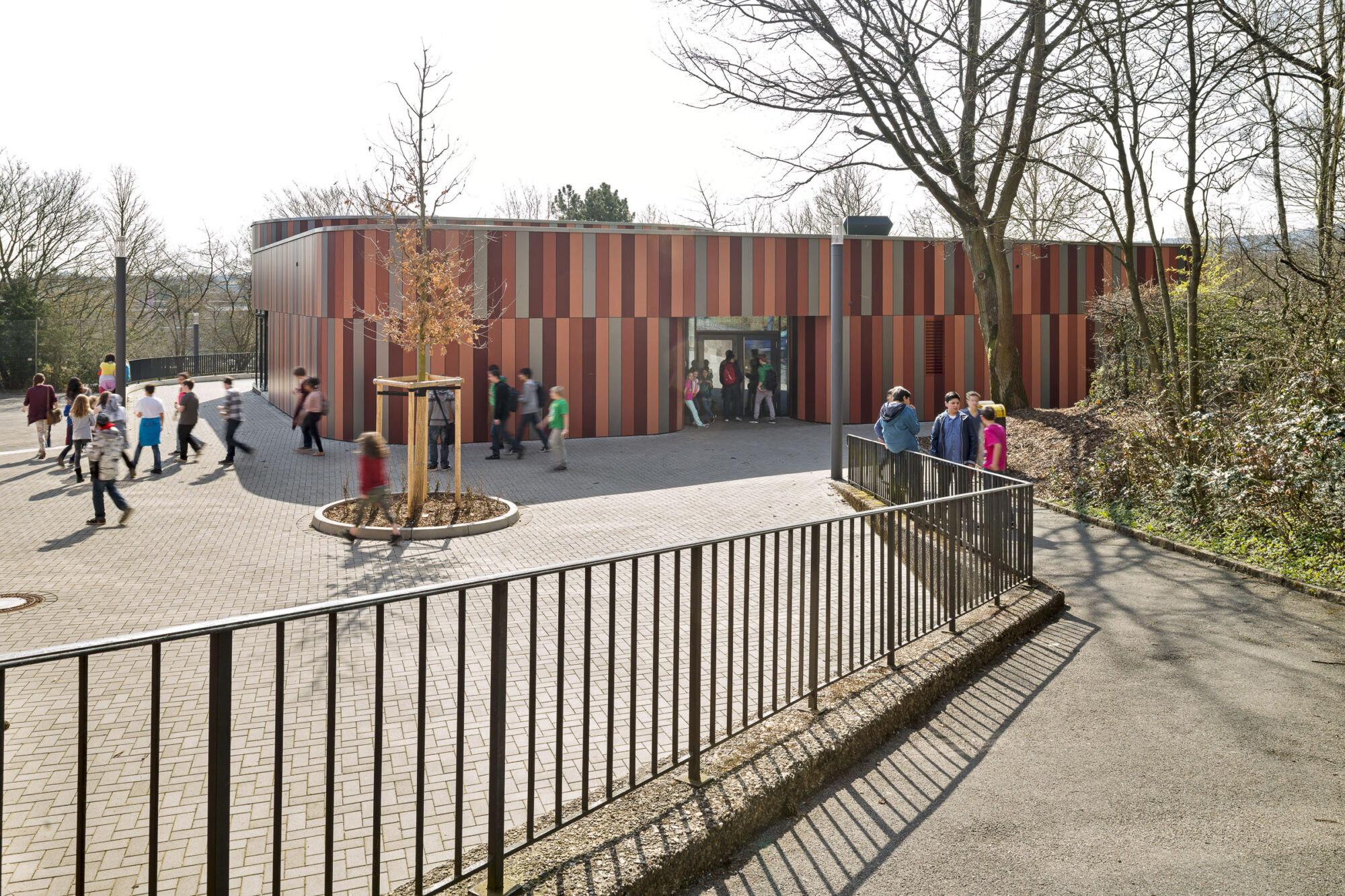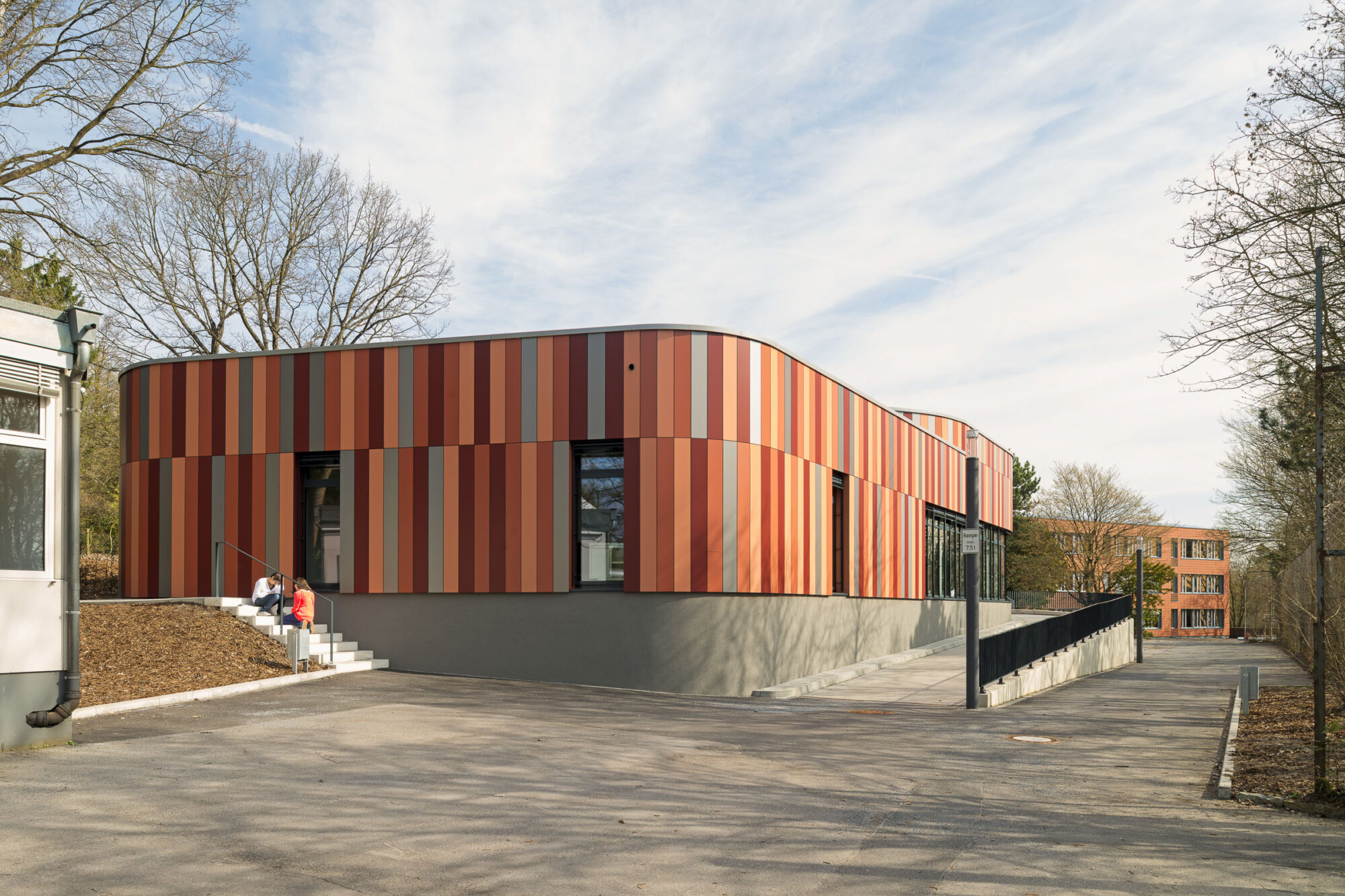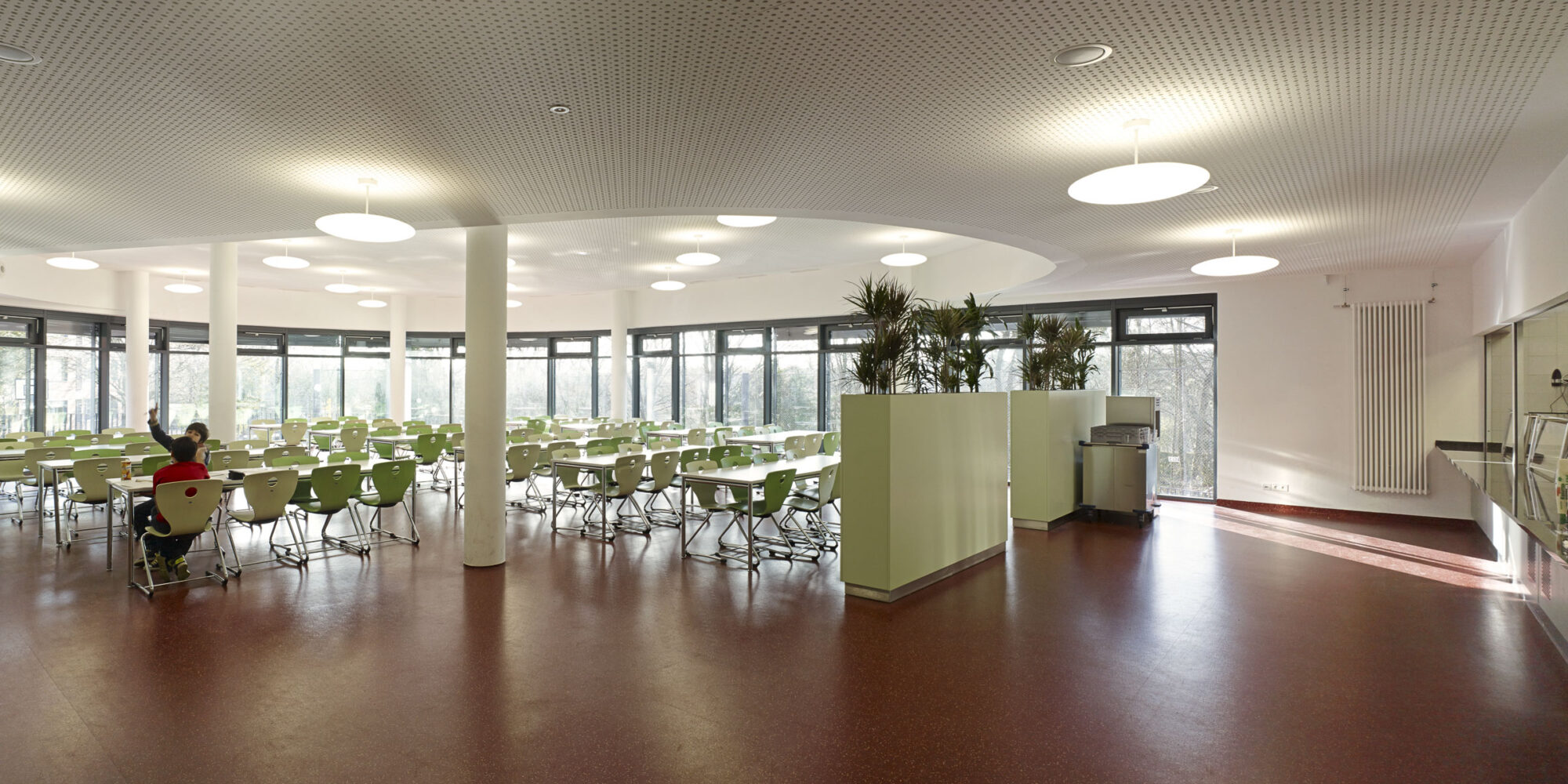 The freestanding cafeteria building contrasts with the existing school buildings. From the rather matter-of-fact functional structures of teaching, the students go for recreation and break into a building with flowing forms. A wide window system allows far-reaching views of the greenery. Together with the chairs painted in different shades of green, the patterned wallpaper designed for the refectory connects the outside with the inside.
The four-coloured façade cladding chosen in a random arrangement underlines the independent character of the building on the one hand and at the same time takes up colour references to the façade cladding of the neighbouring school building.
In contrast to the strict cubature of the school, the external design language of the Mensa building is based on a free rounded ground plan. To emphasise the round flowing shape of the façade, it was clad with a curtain cladding of vertical narrow resin-bonded HPL laminate panels. The flat roof was extensively greened.
The building was constructed according to the passive house standard. The primary energy value is 114.9 kWh/m²a.
From the very first day, the students enthusiastically took possession of the cafeteria as an experience space. In addition to daily gastronomic use, the room is also suitable for special occasions such as school concerts or events.
Project planning, work phases 1 to 09, 2011 to 2012
GFA 540 m2
Client: City of Aachen
Photography: Jörg Hempel