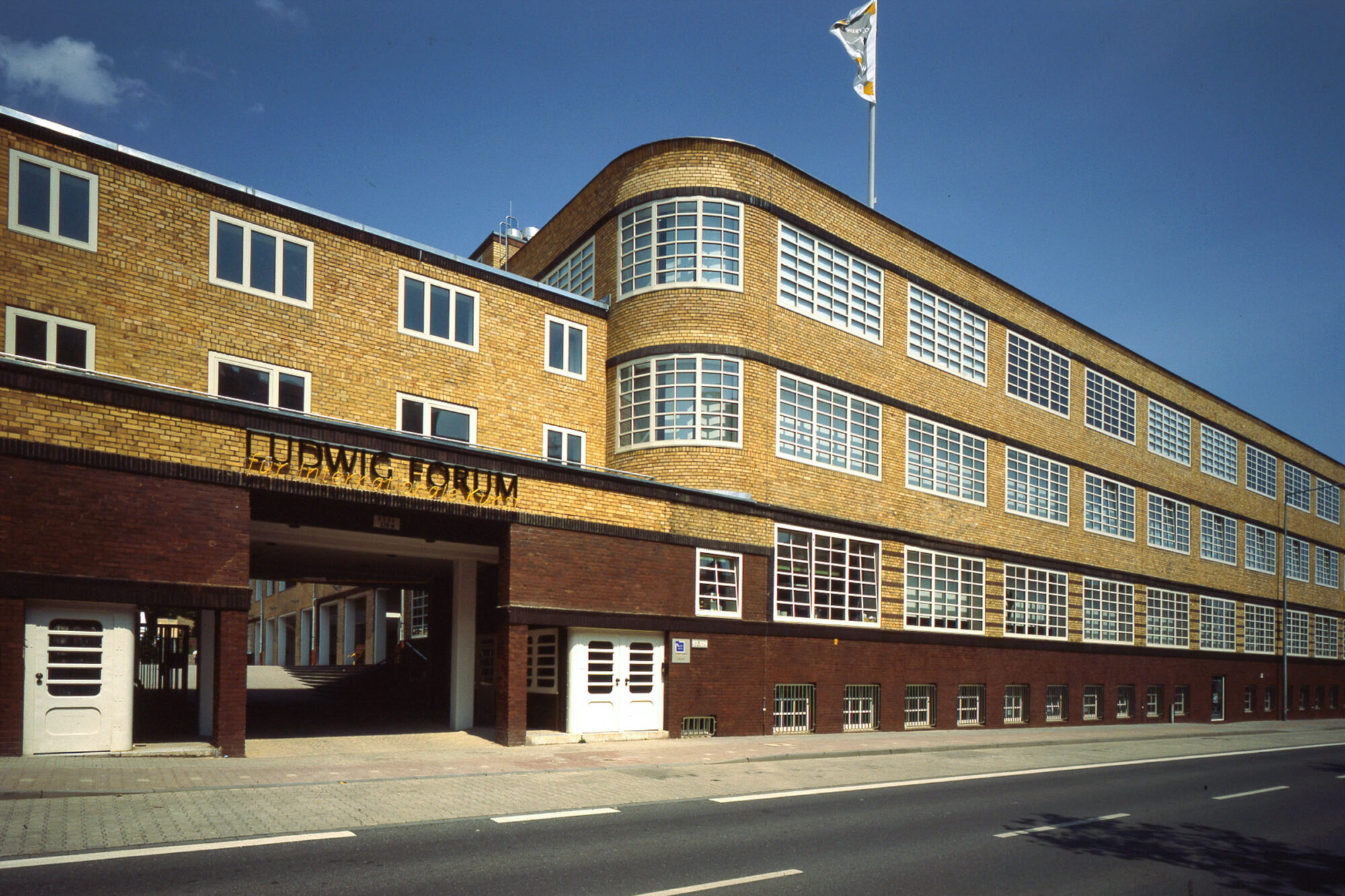 The Ludwig Forum is a house for contemporary art. From American Pop Art through the 1980s and 1990s to current trends, collections, temporary exhibitions, events and museum educational activities convey a lively picture of contemporary art.
The works of contemporary art are exhibited on 6000 square metres spread over three levels and a 5000 square metre garden. Many of them are world famous and are not missing in any art history, such as the photorealistic painting "Medici" by Franz Gertsch and the so-called "Supermarket Lady" by the American sculptor Duane Hanson.
The old factory, built in 1928, has been transformed into a forum with a central hall as an exhibition space for the sculpture collection and for the sculpture temporary exhibitions and an event area with insights and views into the various action areas. For the collection of paintings and the changing exhibition of paintings, room units are arranged in the ground floor surrounding the 3,000 m² shed hall and on the ground floor in different sizes.
All exhibition spaces are arranged on one level on the ground floor. This achieves an open, free, clear routing without corridors and staircases. A varied spatial development is achieved through different room widths.
In the centre of the Shedhalle is an action trough measuring 15 x 15 m, lowered to a depth of up to 1 m and surrounded on all four sides by three seating steps each. This is a focal point and orientation and assembly point for the entire exhibition area.
Four "corner towers" enclose this ground-level exhibition area. They are arranged vertically and tie the programme together into independent units in each case, yet at the same time they are open towards the centre of the hall. in the south-eastern "corner tower" with its own entrance, the restaurant is located on the ground floor. It is connected to exhibition spaces and to the artists' studios and flats.
The corner towers house the library, administration, workshops and the depots. The main entrance from Jülicher Strasse can be reached via a combined ramp-staircase system through a loggia, also from Rubensstrasse via the sculpture garden and sculpture courtyard, or via the parking spaces located on the northern Lombardenstrasse. From the public street through the existing "gateway" the courtyards and garden areas are accessed, the visitor is led imperceptibly into the museum via open and semi-open areas (large loggia), or the visitor crosses the sculpture courtyard and sculpture garden as a walker.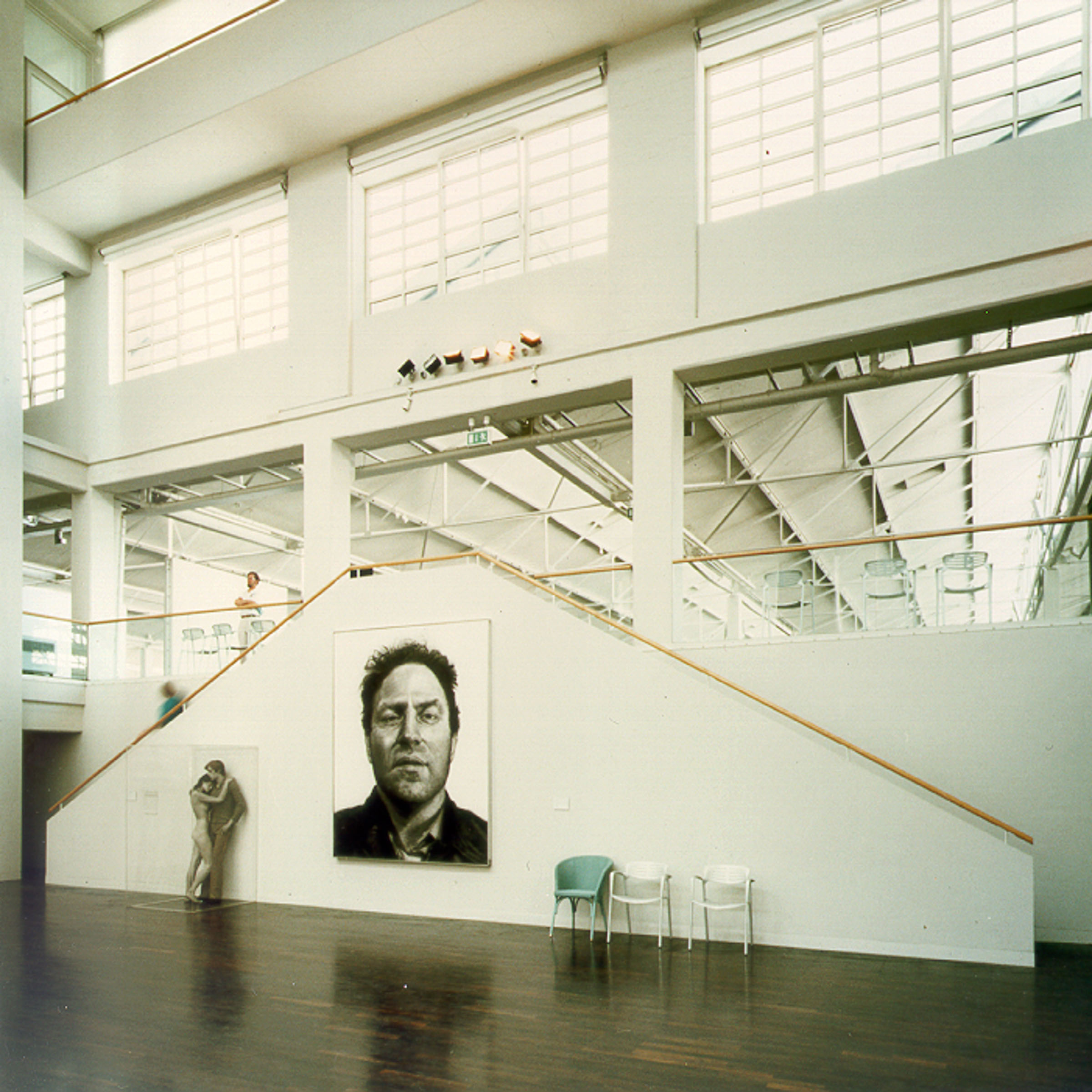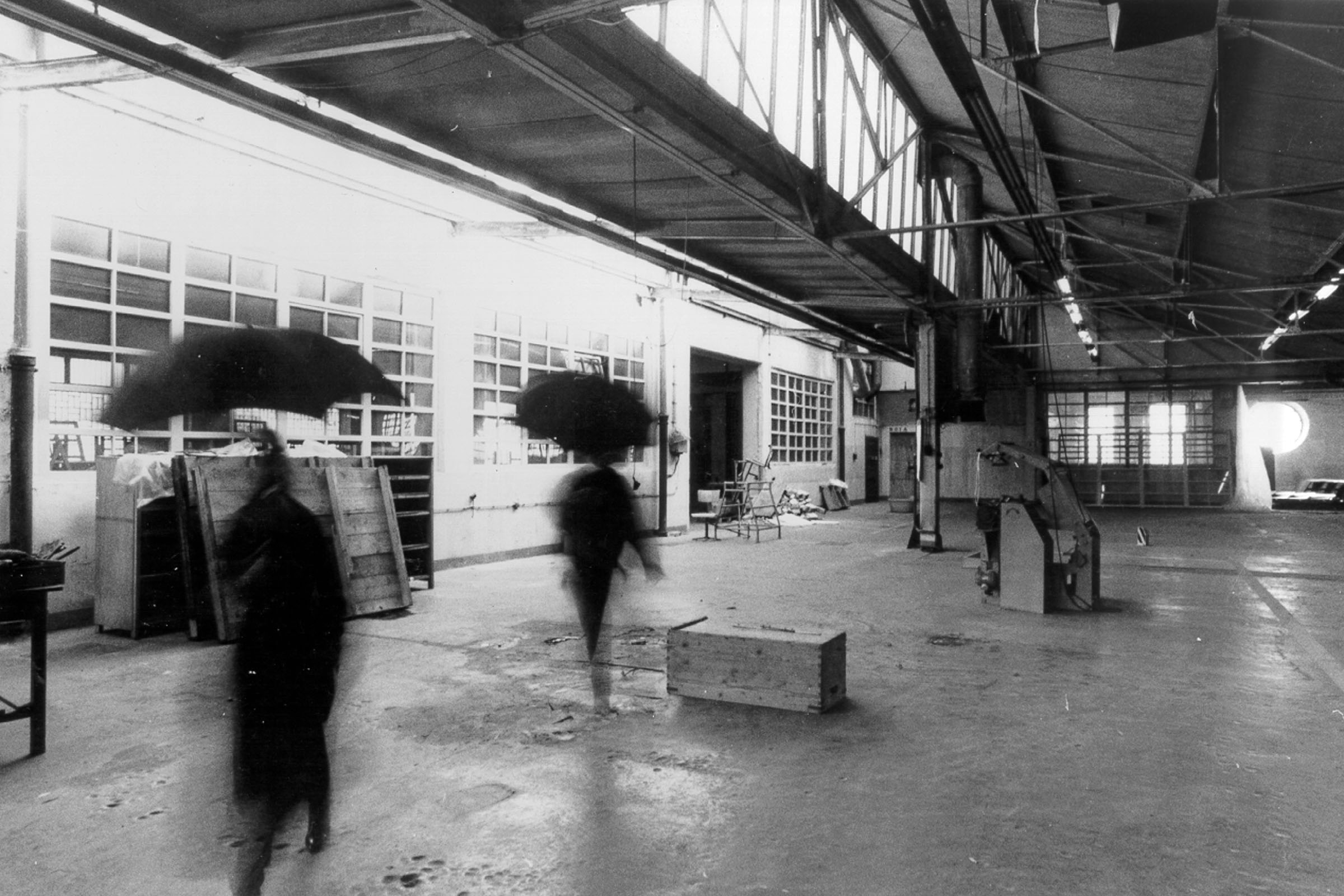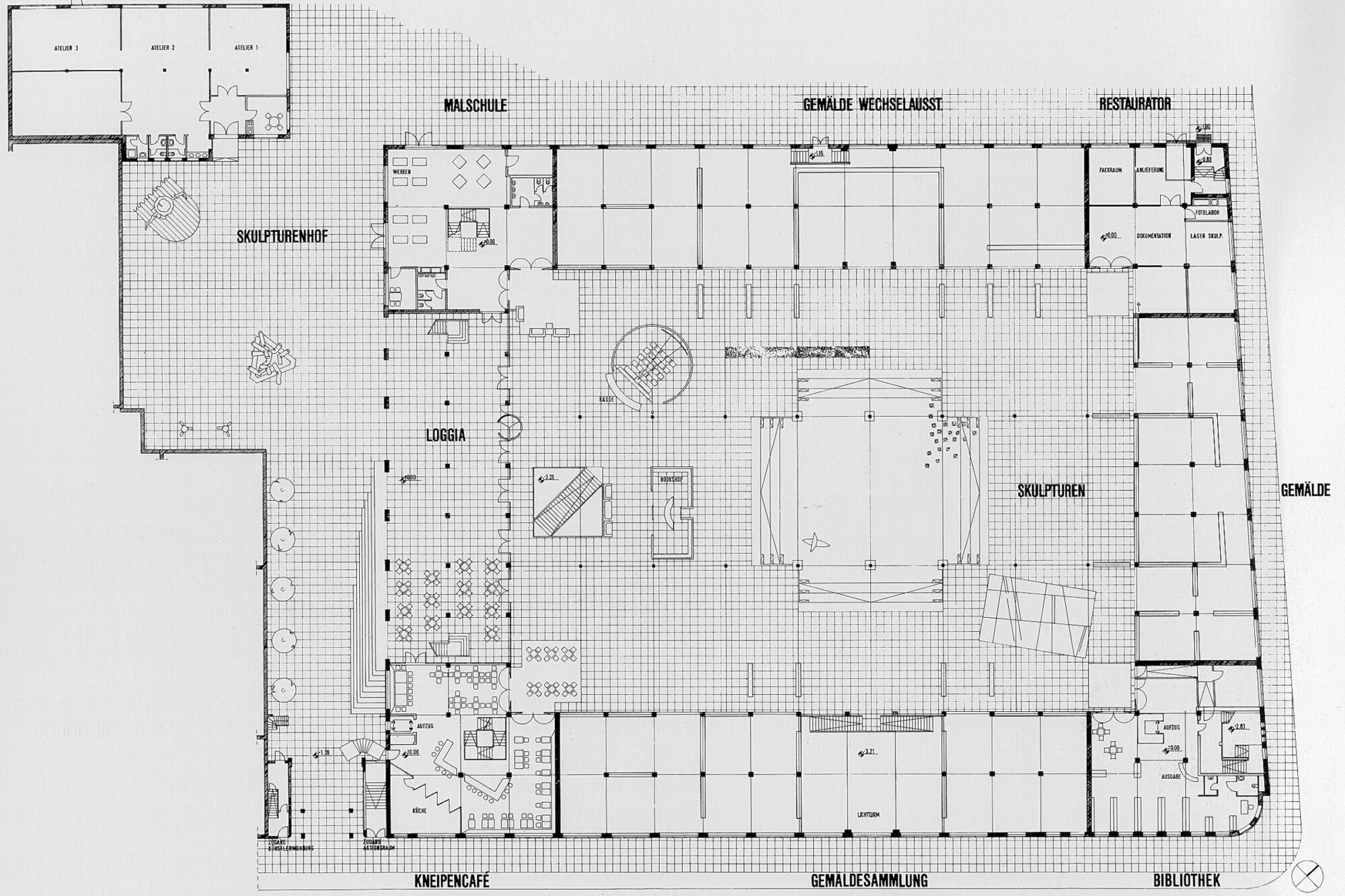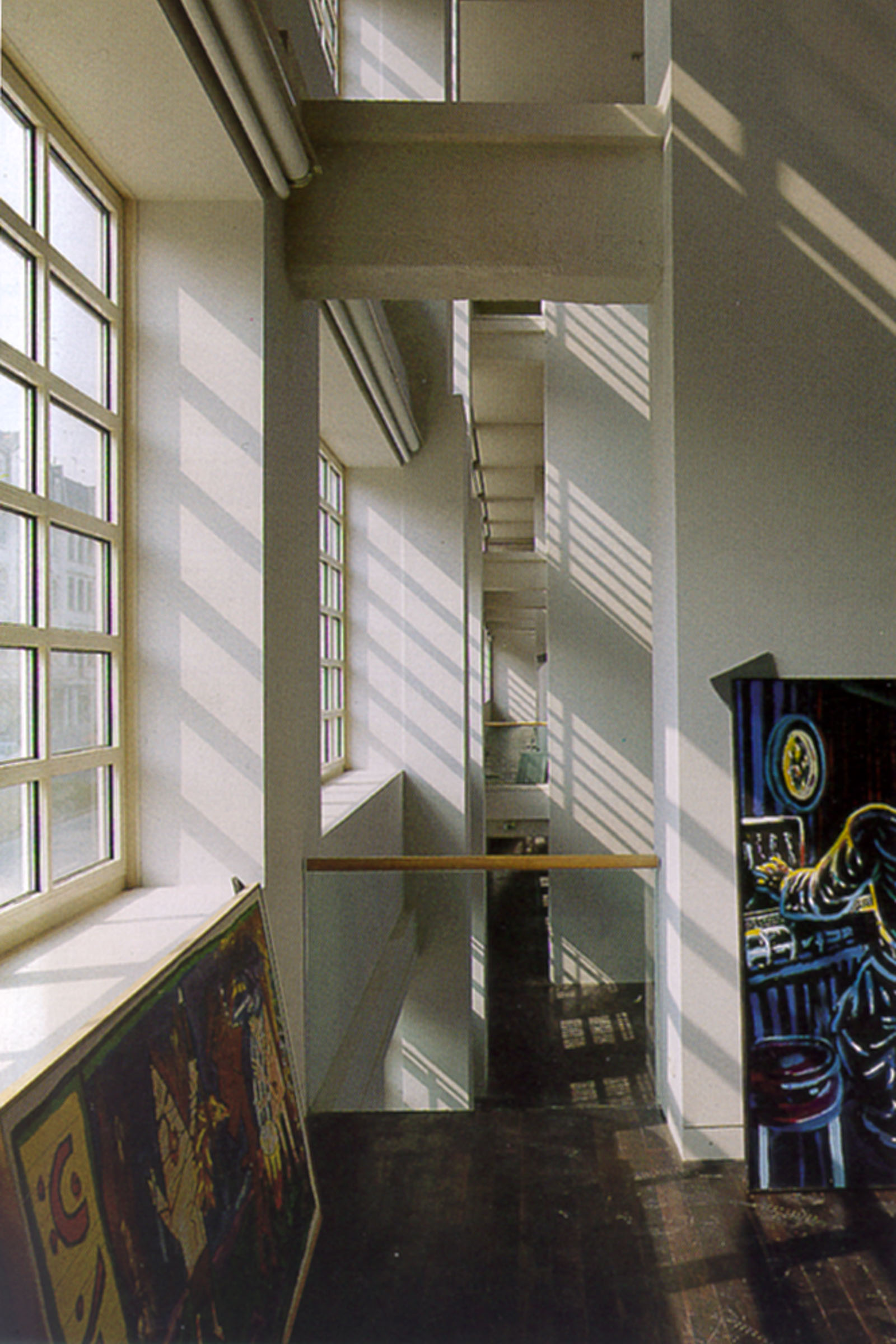 Prof. Fritz Eller at the construction site of the Ludwigforum, Aachen, 1992
Ludwig Forum for International Art, Aachen. Conversion of the former Brauer umbrella factory
Work phases HOAI 1 to 9, 1988 to 1991.
GFA 7,000 sqm