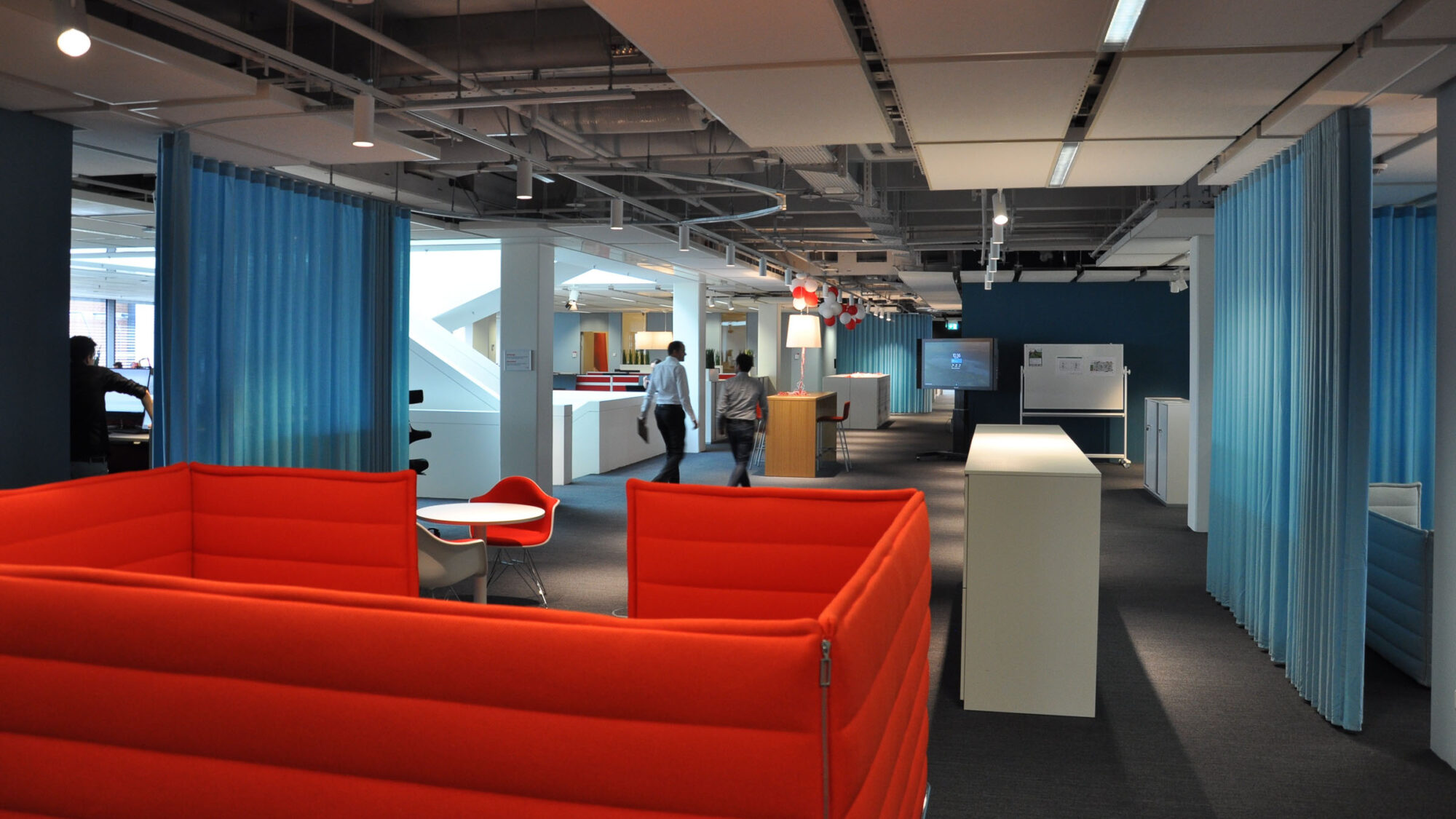 Das Verwaltungsgebäude Z20 befindet sich auf dem südlichen Werksbereich der Fa. Henkel AG & Co. KGaA and was built in two phases starting in 1965.
In addition to the overdue renovation of the façade, the outdated building technology and the facilities, the measure created a modern, communication-promoting and open working environment for a total of about 1000 employees. The cubicles and room-within-a-room structures that existed before the refurbishment are to be largely removed, so that the building will be used mainly as an open-plan office after the refurbishment.
The building is characterised by an unusually large spatial depth for an administrative building. In future, the permanent office workplaces will be located mainly in the outdoor areas near the windows. In the poorly lit interior zones, mainly open areas such as team areas, breakout areas, meeting and coffee points are arranged. In addition, meeting rooms, individual offices, think tanks etc. are made available in newly installed boxes.
The creation of local voids across floors enhances the interior zones of the building and further promotes communication and networking between the user groups spread over several floors.
The AG and the planning team were supported by a workplace consultant in the precise analysis of the changing fields of work and the user-specific requirement profiles. A working environment that is precisely tailored to requirements and optimised is a decisive factor in ensuring productive, employee-friendly processes and sustainable change management.
During the renovation of the building, a high priority was placed on the use of sustainable materials. The guidelines provided by the client are closely based on the criteria of the DGNB.
The comprehensive refurbishment of the building technology and envelope will reduce the building's energy demand and operating costs to a considerable extent. The building is well below the requirements of the EnEV 2014.
Conversion, modernisation, general planning, work phases 1 to 8, 2014 to 2017
BGF 20.070 m2
Client: Henkel