"It looks just like it did before!" was the reaction from the Berlin State Monuments Office during the last inspection before the auditorium in the House of World Cultures was reopened.
"Then we've done everything right in terms of monument protection!" was the spontaneous response of Beate Garibagaoglu, architect in the team of Eller + Eller Architekten and responsible for the construction management of this ambitious project.
It is expected that the public will be able to enter the auditorium again on 30 September 2021, when the exhibition "Archive of Flight" will open with workshop discussions. The final touches to the event technology, a cleaning, the final acceptance – then it can finally start again in the freshly renovated and extensively modernised hall in terms of building technology. For the general public, the room will actually look (almost) as it did before the renovation, because the surfaces of the floor, walls and ceiling have been renovated with meticulous attention to the protection of historical monuments. The major technical modernisation effort is literally taking place behind the scenes.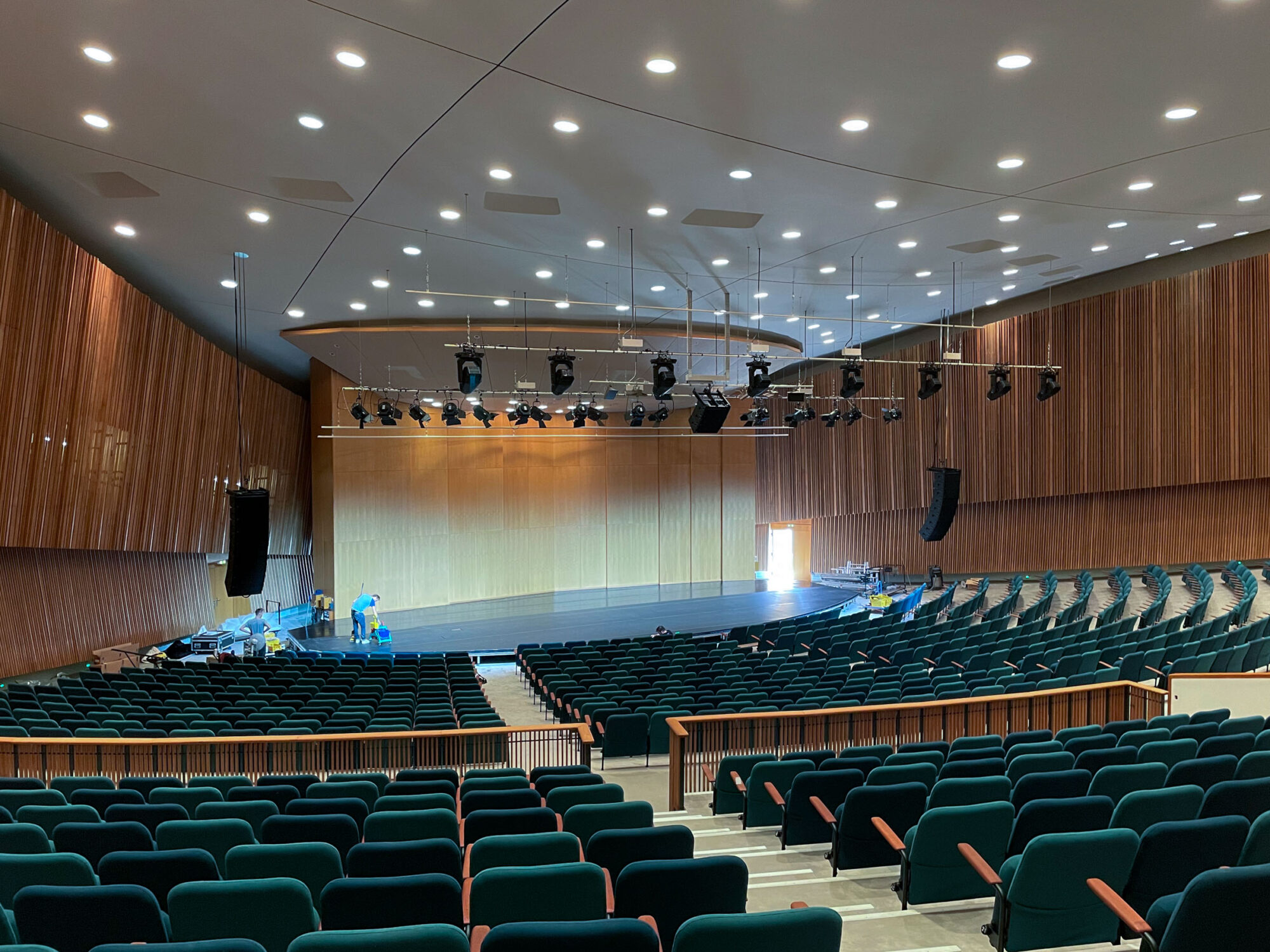 Since 2017, we have been commissioned with the project planning for the modernisation and restoration of the House of World Cultures in Berlin, affectionately known by Berliners as the "pregnant oyster".
The building dates from 1957 (architect: Hugh Stubbins). As a gift from the USA to the city of Berlin, it was the US contribution to the International Building Exhibition Interbau. Since 1987, the "House of World Cultures" has been located in the building previously used as a congress hall, with its striking, double-curved concrete roof. When part of the roof edge collapsed in 1980, the roof shell was demolished and rebuilt. Another renovation measure followed between 2006 and 2008.
The renovation work we will be overseeing between 2017 and 2021 includes, in particular, the modernisation of the event area with the auditorium, the restaurant and the cloakrooms, the redesign of the administration and conference areas, the conversion of the office wing into artists' cloakrooms and, in addition, the renewal of the event and building services.
In the auditorium, the ceiling and false ceiling were modernised and renovated, including the extensive renewal of the building and stage technology.
In the area of the "Weltwirtschaft" restaurant, the floor and ceiling were renewed, the counter was redesigned and renewed, and kitchens and adjoining rooms were modernised and refurbished in consultation with the new operators. The building fabric, which was partly preserved in its original state, was analysed and the procurement of materials and products true to the original was aimed for as stringently as possible.