Monument Conservation on Site: House of World Cultures
DATE
Tuesday, 18 October 2022, 4 p.m. to 7 p.m.
LOCATION
Meeting place: House of World Cultures
John-Foster-Dulles-Allee 10
10557 Berlin

TARGET GROUP
The event is aimed above all at architects and
Architects working in the field of heritage conservation. But it is also open
for all other interested colleagues.

LEARNING OBJECTIVE
Using the example of the former congress hall "Haus der Kulturen der
World", participants will have the opportunity to learn about the
extensive restoration and reconstruction measures under monument conservation aspects.

CONTENTS
An event within the framework of the series "Denkmalpflege vor Ort", in
cooperation with the Landesdenkmalamt Berlin, the Architektenkammer
Berlin und der Baukammer Berlin.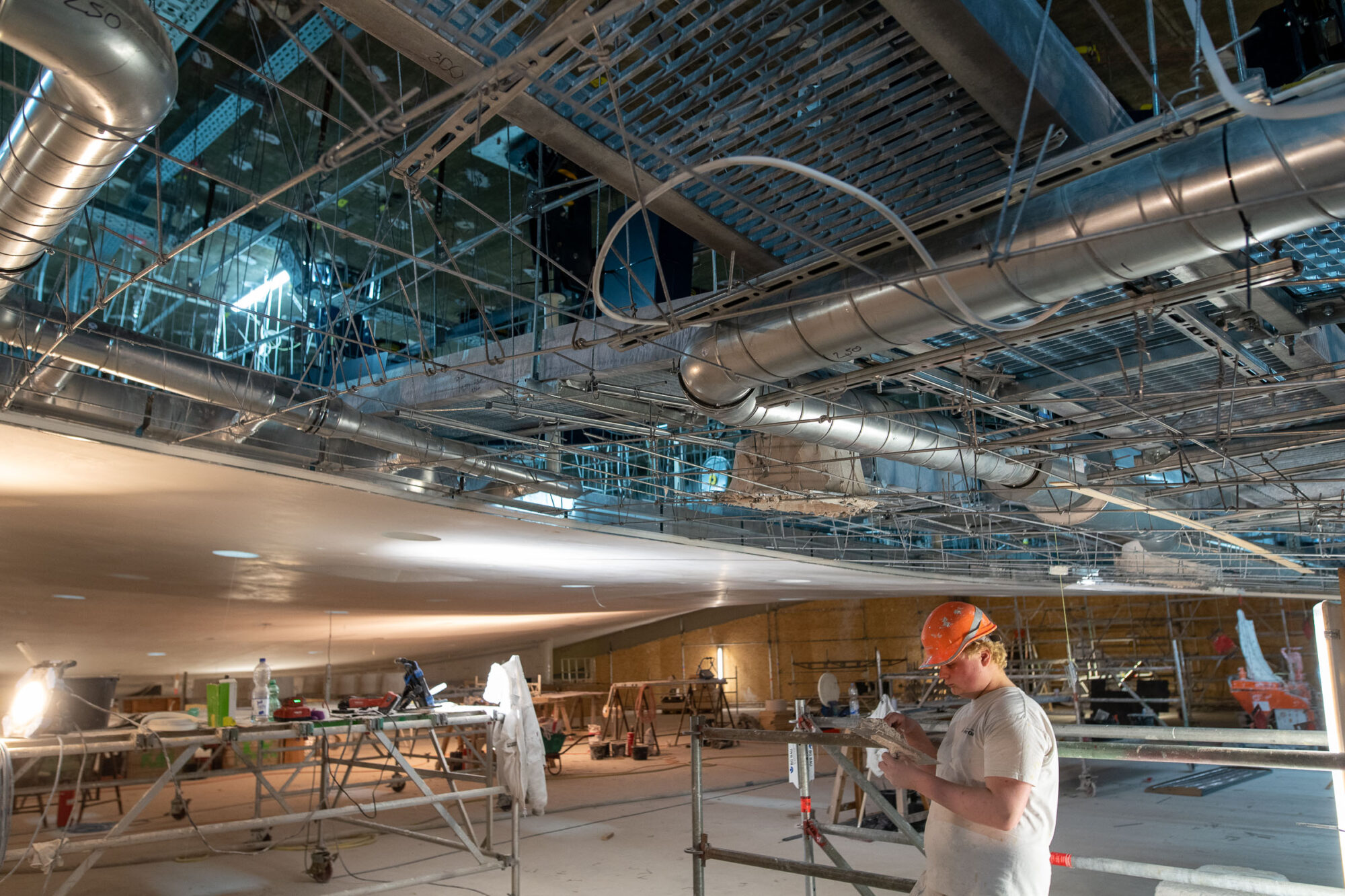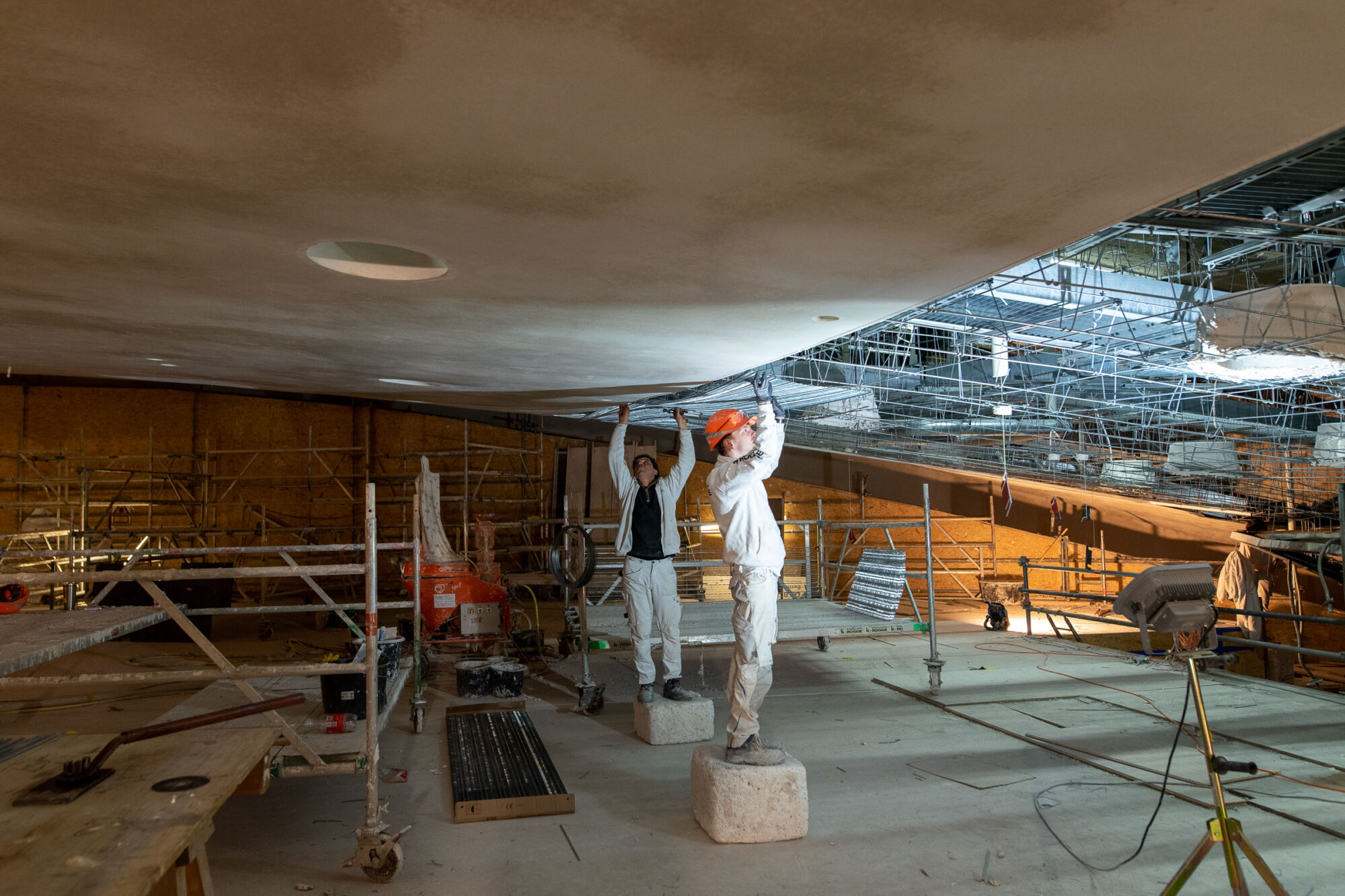 Hugh A. Stubbins' former Congress Hall on the banks of the Spree tells an eventful redevelopment story despite its fairly young age of 65. The building, popularly known as the "pregnant oyster", was, in a sense, born with the question of how to deal with the existing building. For it was the American contribution to the 1957 International Building Exhibition, which was also dedicated to the question of the reconstruction of the war-damaged Hansa Quarter. The partial collapse of the striking curved roof during a press conference in the summer of 1980 and its subsequent reconstruction marked the beginning of the iconic building's history of restoration, which reached its most recent conclusion last year.
The Congress Hall, which has been used as the House of World Cultures since 1987, was renovated in three sections starting in 2006. After completion of the work in the foyer and the development of a heritage conservation plan for the building, the second and third partial renovations followed from 2016. In addition to the lower foyer and the main entrance south, their focus was particularly on the modernisation of the auditorium. Contemporary requirements for lighting, acoustics and, last but not least, fire protection in the hall could be met by minimal intervention with maximum preservation of substance.
Probably the most extensive intervention was the renovation of the auditorium's raftered ceiling, which had been preserved from the time of construction. Planned and coordinated by the architectural firm Eller + Eller, the geometry of the ceiling could be reconstructed despite the installation of a new ventilation system and lighting. The structurally complex attachment of the ceiling support wires to the concrete ceiling, the threading of the required technology into the low ceiling gap and the hand-plastered rabet construction make the ceiling renovation a masterpiece of planning and craftsmanship. The work was completed in autumn 2021.
Sybille Haseley, as the responsible area officer of the Berlin State Office for the Preservation of Monuments, supervised the restoration of the Congress Hall Auditorium and will give an insight into the history of the building and its preservation objectives. Representatives of the building owners and the architects Eller + Eller will also report jointly on the implementation of the repair work.
Speakers:
Dipl.-Ing. Ruppert Everke, House of World Cultures
Dr. Ruth Klawun, Berlin State Monuments Office
Dipl.- Ing. Sybille Haseley, Berlin State Monuments Office
Dipl.- Ing. Christiane Flasche, Eller + Eller Architekten GmbH
Dipl.- Ing. Beate Garibagaoglu, Eller + Eller Architekten GmbH
Dipl.-Ing. Sven Haase, GSE Ingenieur-Gesellschaft mbH Saar, Enseleit und Partner
Moderation: Dr. Jürgen Tietz