The corporate headquarters with showrooms and casino is located within the garden ring south of the Kremlin and the Moskva River, between Uliza Bolshaya Ordynka and Uliza Bolshaya Polyanka, in the immediate vicinity of the new buildings of Berliner Bank and the Haus der Deutschen Wirtschaft. To the northwest is the Tretykov Gallery. The total plot is approx. 2.47 ha in size and is connected to the metro network / public transport links via the Poljanka metro station. So far, the property has been used as a storage area.
The entire building site was developed as an office park and divided into seven construction phases, which are accessed by a ring road within the site. The 1st construction phase is located in the eastern area of the property directly at the entrance area on Uliza Bolshaya Ordynka.
The building consists of two similar 5-storey structures (side wings). A five-storey atrium serves as access and connects the two side wings.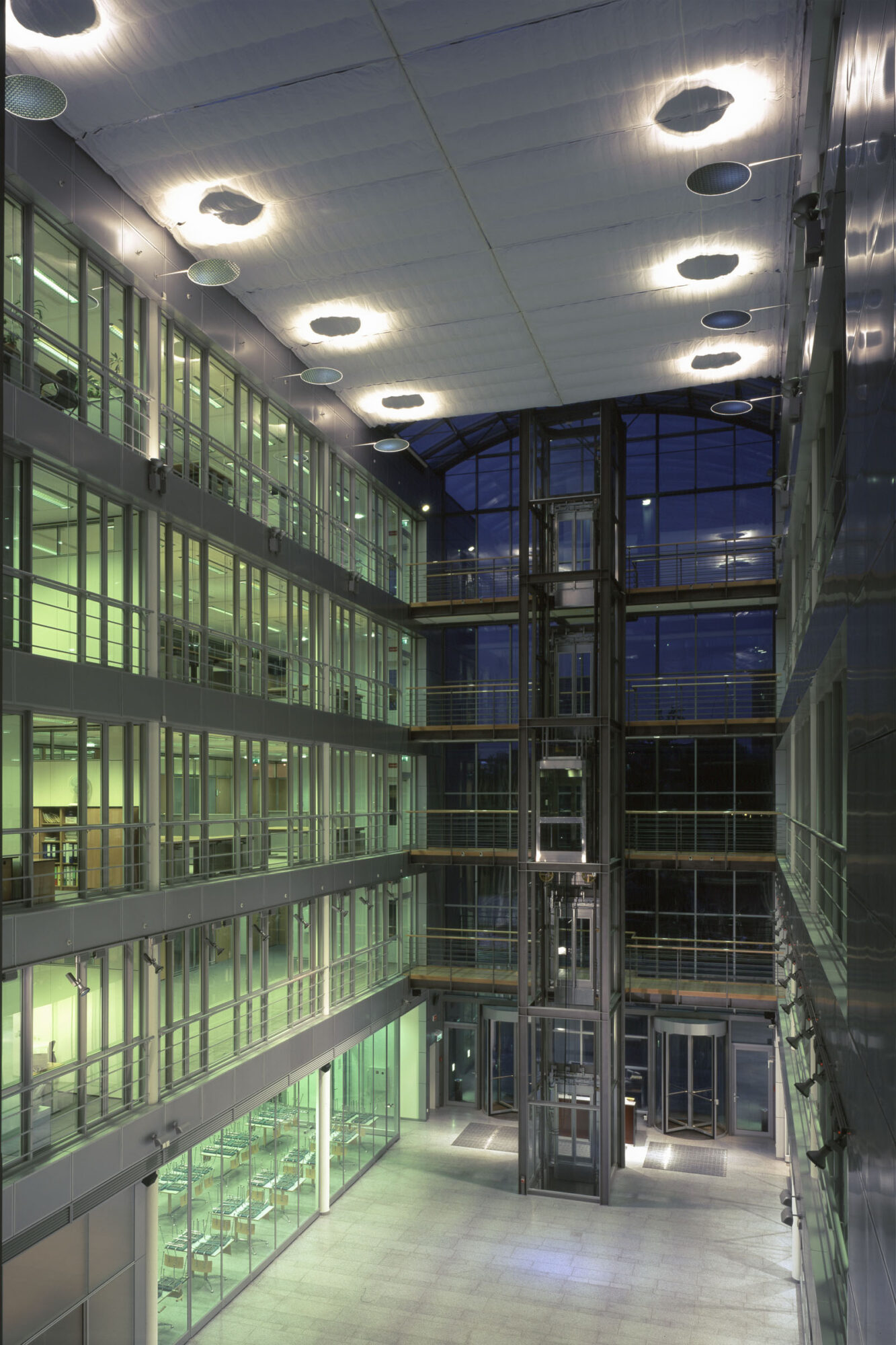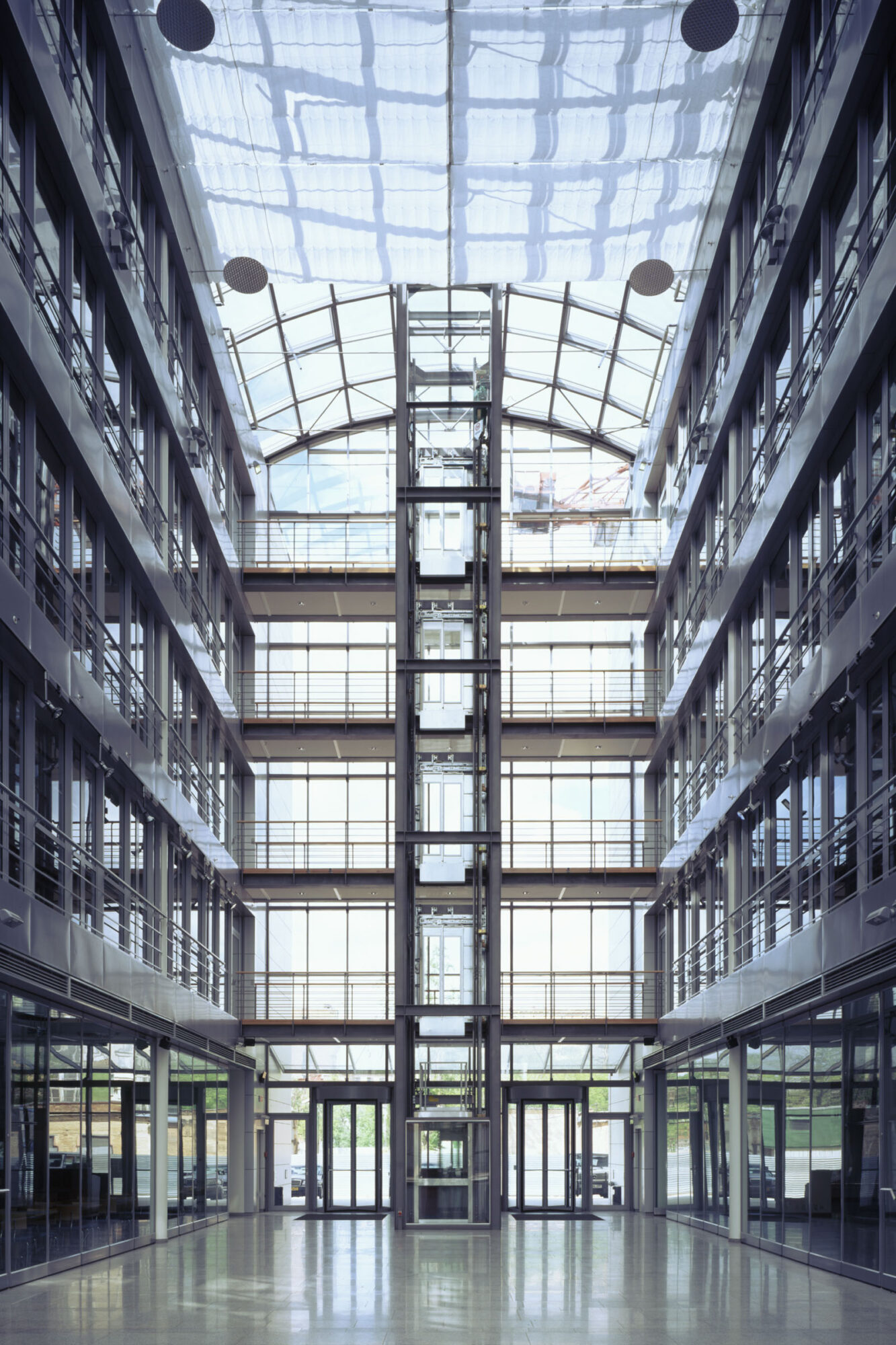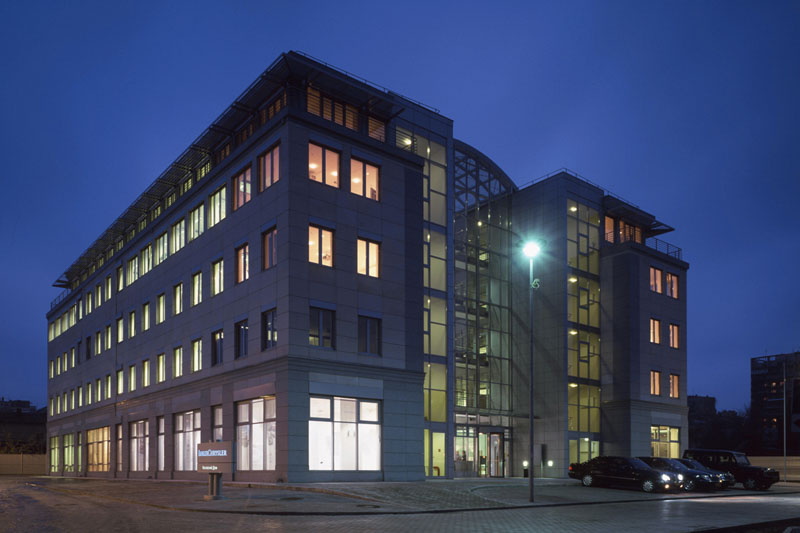 The deliberately monolithic expression of the side wing façades is achieved through the formation of a perforated façade and underlined by the use of materials (including natural stone, masonry, granite). The atrium is made transparent by a filigree steel and glass construction and serves as a representative access area. The slightly sloping monopitch roofs form the overarching framework in interaction with the façade as the upper end of the atrium.
The columns inside the building with a centre distance of 7.52m facilitate the arrangement of functionally differentiated rooms and allow a high degree of flexibility in their layout. The side wings are designed in principle as a two-hip complex, with the high-quality office spaces grouped along the outer façades and arranged as generous combi spaces towards the atrium area.
A high degree of natural lighting and ventilation is ensured for the office spaces. The vertical circulation is centrally located within the atrium and connects the individual office areas in the side wings with filigree bridges. This enables a high level of communication within the daily work through the tangibility of the building.
The central entrance area on the north side serves as an entrance for the two side wings and for the ground-floor exhibition and canteen area, as well as a distributor for the individual office areas. On the ground floor there are additional exhibition areas that can be used as training, conference and meeting zones.
The two building blocks are connected with a continuous basement.
The basement comprises an underground car park with approx. 49 parking spaces, the necessary operating rooms for technical building equipment as well as storage areas and a washing area.
Client: DaimlerChrysler AG, Sindelfingen/Germany
Eller + Eller Architekten with architect Pavel Andreev, Workshop 14, Moscow
Offices, showroom, canteen: LPH 1-6, planning 07/1997 – 10/1998, execution 02/1998 – 09/1999
GFA: ground floor – 4th floor 5,032 m², underground car park 2,024 m².
Property size 4.360m²