The Kutuzovsky International Center Moscow project covers 368,000 m² and consists of two twin towers, approx. 180 and 200 m high, with 45 and 50 storeys. Due to their proximity to each other and the rounded shape, they appear to be made of one piece.
At its foot is a central plaza, an oasis of calm away from the hustle and bustle of traffic, and adjoined by other buildings up to 9 storeys high.
The "city within the city" is being built directly between the urbanistically important and renowned protocol route Kutuzovsky Prospekt and the Moskva River, on the banks of which it merges into a 1.8 ha public park.
With its two high-rise buildings, it represents a significant counterpoint to the planned "Moscow City" on the other side of the river and will be completed by 2009.
The five separate 9-storey campus buildings each have a gross floor area of over 24,000 m², while the high-rise buildings offer a further 80,000 and 90,000 m².
All the structures are grouped around a central plaza which, with its elongated water basin, seating areas and green spaces, offers a high quality of stay and space for numerous special events and represents the heart of the entire ensemble.
The largest part of the project is reserved for high-quality office use (Class A standard) for up to 20,000 workplaces, with additional functions (retail, conference centre, hotel …) to be accommodated on the ground floor and in selected buildings.
A weather-protected boulevard runs through all the buildings and connects the atriums, which are up to seven storeys high and surrounded by shops and restaurants that cater to the daily needs of employees and companies and are intended to enliven the area beyond office hours.
In addition to the 4-storey underground car park divided into sections for over 3,000 parking spaces, the basement levels also contain technical and storage areas, a delivery zone and, last but not least, the connection to the metro and light rail line.
With the government decision by Moscow's Lord Mayor Yuri Lushkov to build the International Center, the foundation stone was laid on 12 April 2005 for a project that all those involved had been working on for several years.
With the construction of the up to 200-metre-high office complex, this section of Kutuzovsky Prospekt is undergoing a modern expansion that, by respectfully adapting the building volumes and façades to the prevailing dimensions and materials, improves the continuity of the street space and expands the quarter with a striking attraction that is visible from afar.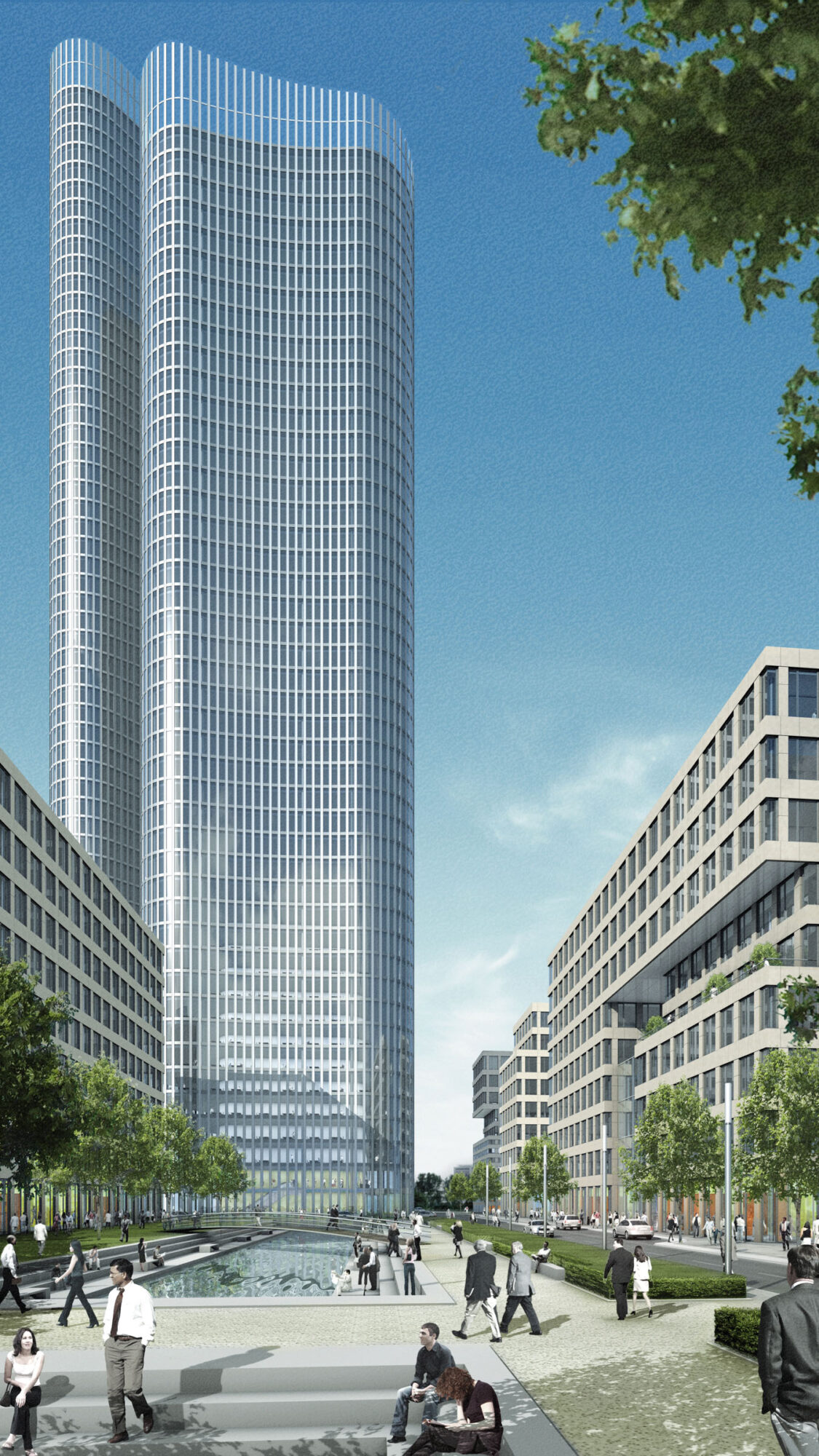 1994 / 2005-2009
BGF approx. 368,000 m2
Costs approx. 480 m €
Architect Eller + Eller Architekten, Düsseldorf
in collaboration with Sergey Kisselev & Partners, Moscow