Our well thought-out concept for the campus convinced the Jury: "Overall, the design is an outstanding contribution to the competition, praised in particular for its potential to create a campus integrated into the urban fabric with a human scale for the employees, as well as for the coherent overall concept with high potential."
Siemens Healthineers AG, a global leader in medical technology for diagnostics and therapy, is intending to build a new interdisciplinary campus for research and development in Bengaluru, India. This new complex will be the largest of all global sites of the Germany-based company and will be the largest investment in India to date. To find the optimal solution for design, functionality, cost-effectiveness and sustainability, Siemens called out an international competition, with a pre-qualification phase upfront. Eller + Eller Architekten were the only German firm to qualify for the final round, and we were given the first prize by an unanimous vote of the jury.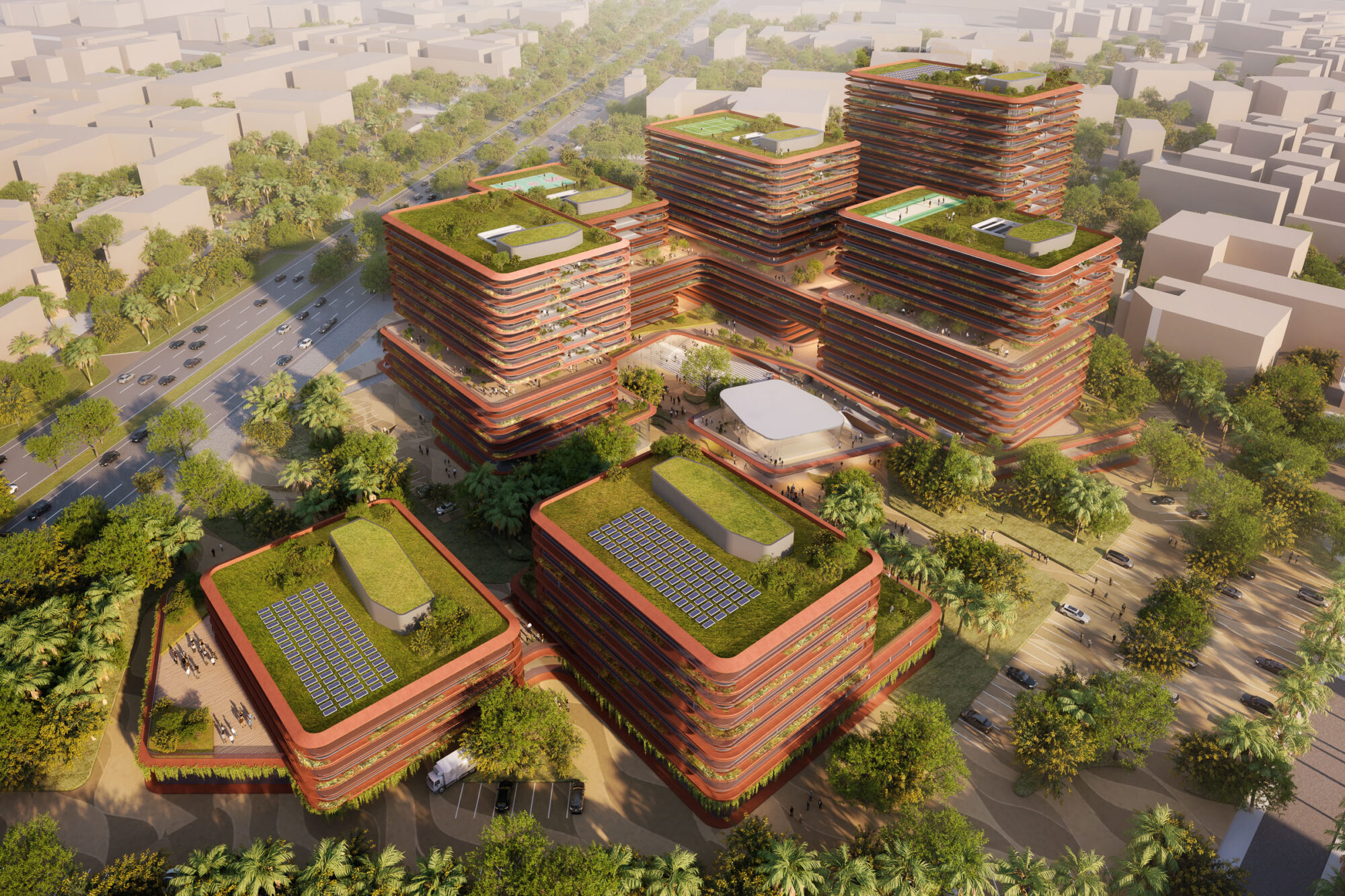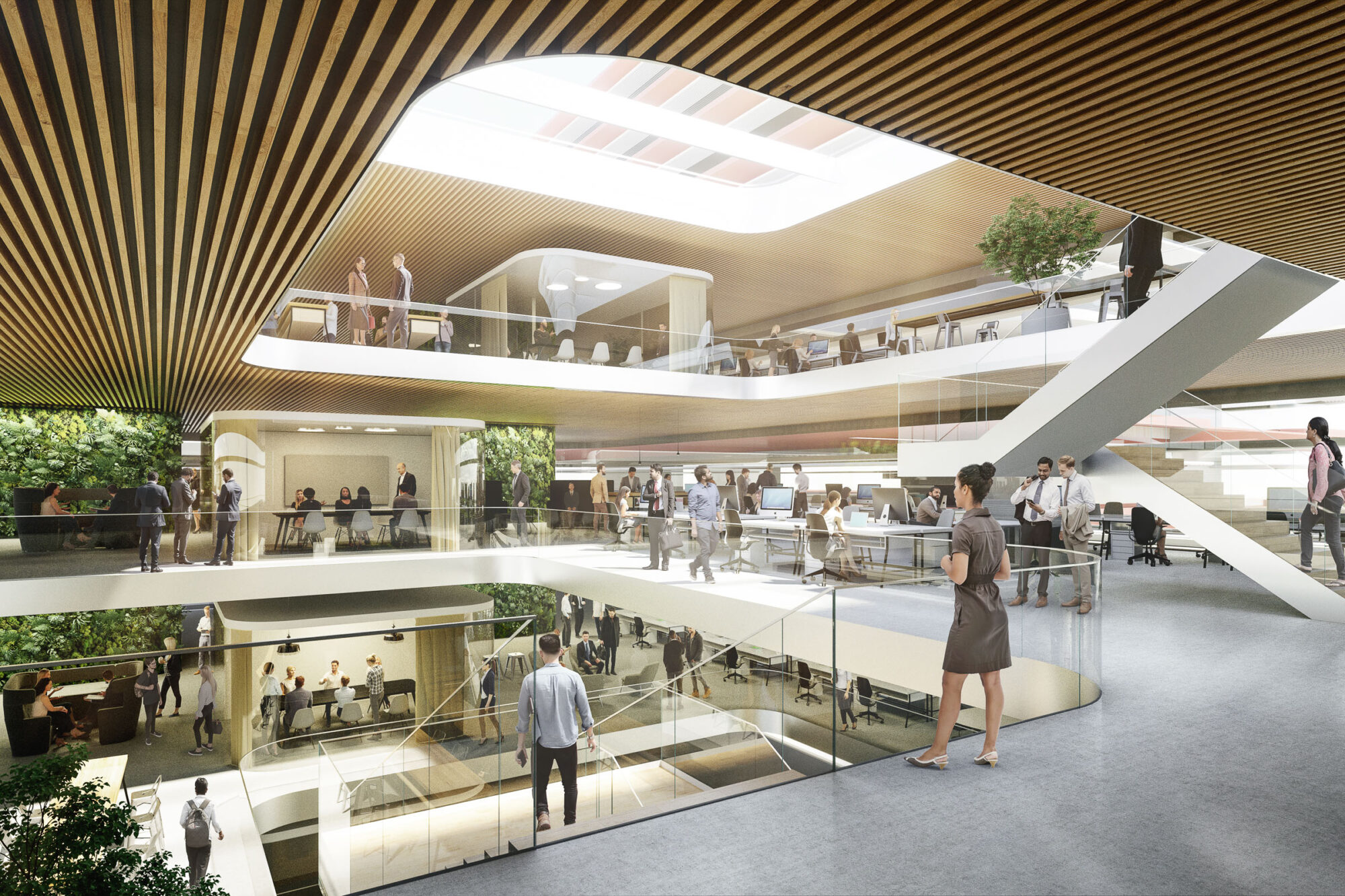 The campus in numbers:
175,000 m² gross floor area GFA
143,000 m² main usable floor space
4,56 ha Campusareal
Building height up to 70 m
up to 18 full storeys
Start of planning 05/2021
Start of construction 2022
Completion 2025
The guiding theme of the campus is enhanced by connectivity, collaboration, communication and transparency Technological innovation is not only generated in the spatially clearly defined functional areas tailored to concentrated work, as research and development, but also through the casual encounter with other people, the informal exchange of ideas and opinions, the interdisciplinary impulse. The human encounter and the diversified circulation and strolling on campus is given a new dimension in the architectural landscape designed by Eller + Eller together with Arup and Rainer Schmidt landscape architects, providing an inspiring stage.
Seven buildings, staggered in height and grouped around a landscaped courtyard, are connected to each other on several levels via terrace-like sky walks and sky gardens. These connecting and intermediate zones, as well as the flights of stairs set in atriums and air spaces, are much more than just walkways; rather, they serve as attractive meeting and communication zones between the zoned work and functional areas.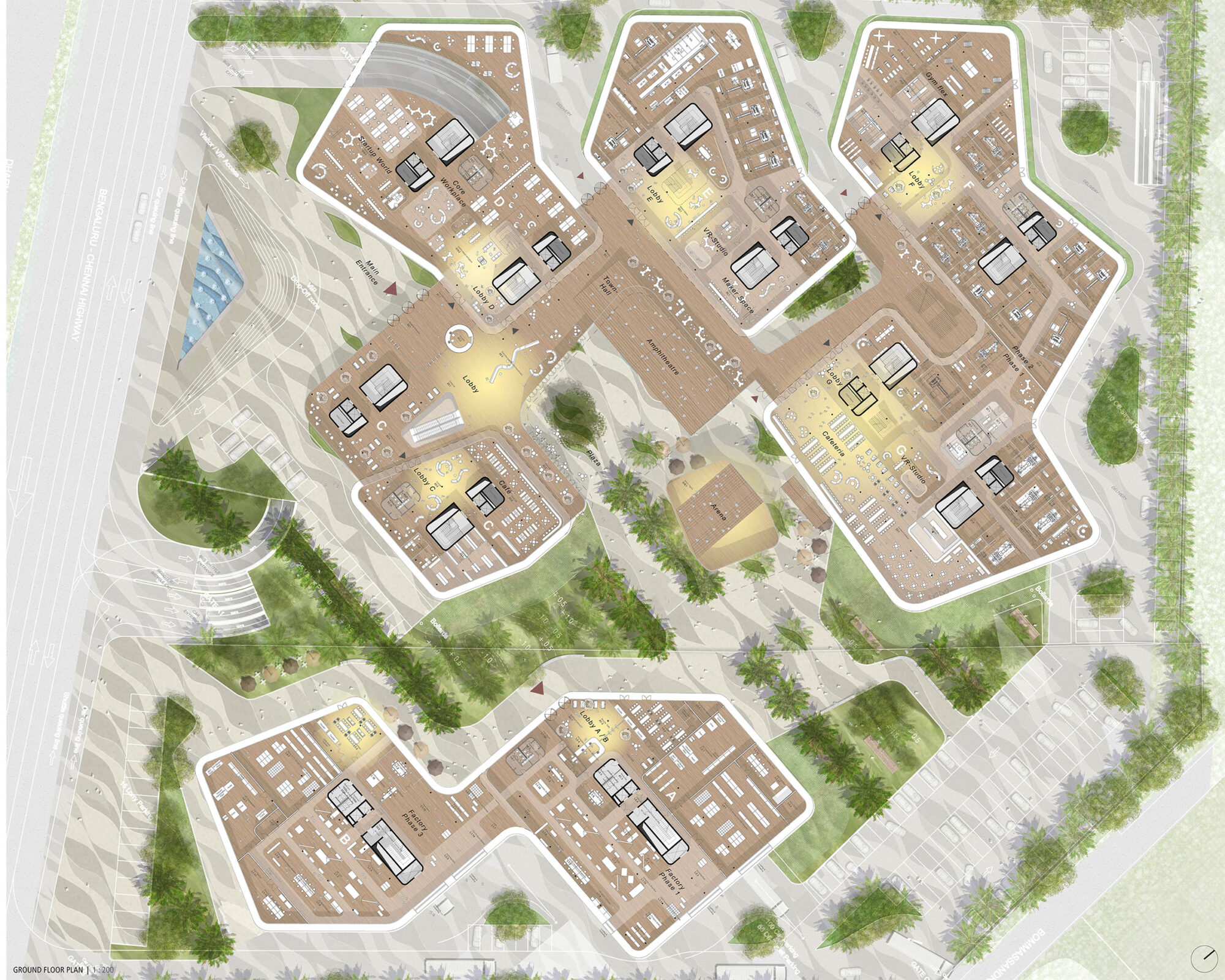 The symbolic heart of the campus is the open-air lounge with trees and lots of greenery, as a marketplace for people to meet. Architecture and open space combine to form a unified gesture, blurring the boundaries between inside and outside. The movement on campus permanently enables new perspectives, insights and outlooks, invites you to discover and broadens your horizon.
Notwithstanding the high transparency and openness of the loosely interspersed structures, the building complex is kept compact and yet allows for quick shortcuts if needed. If additional area would be required in the future, the structure already provides for an expansion of the campus with additional buildings to be docked on.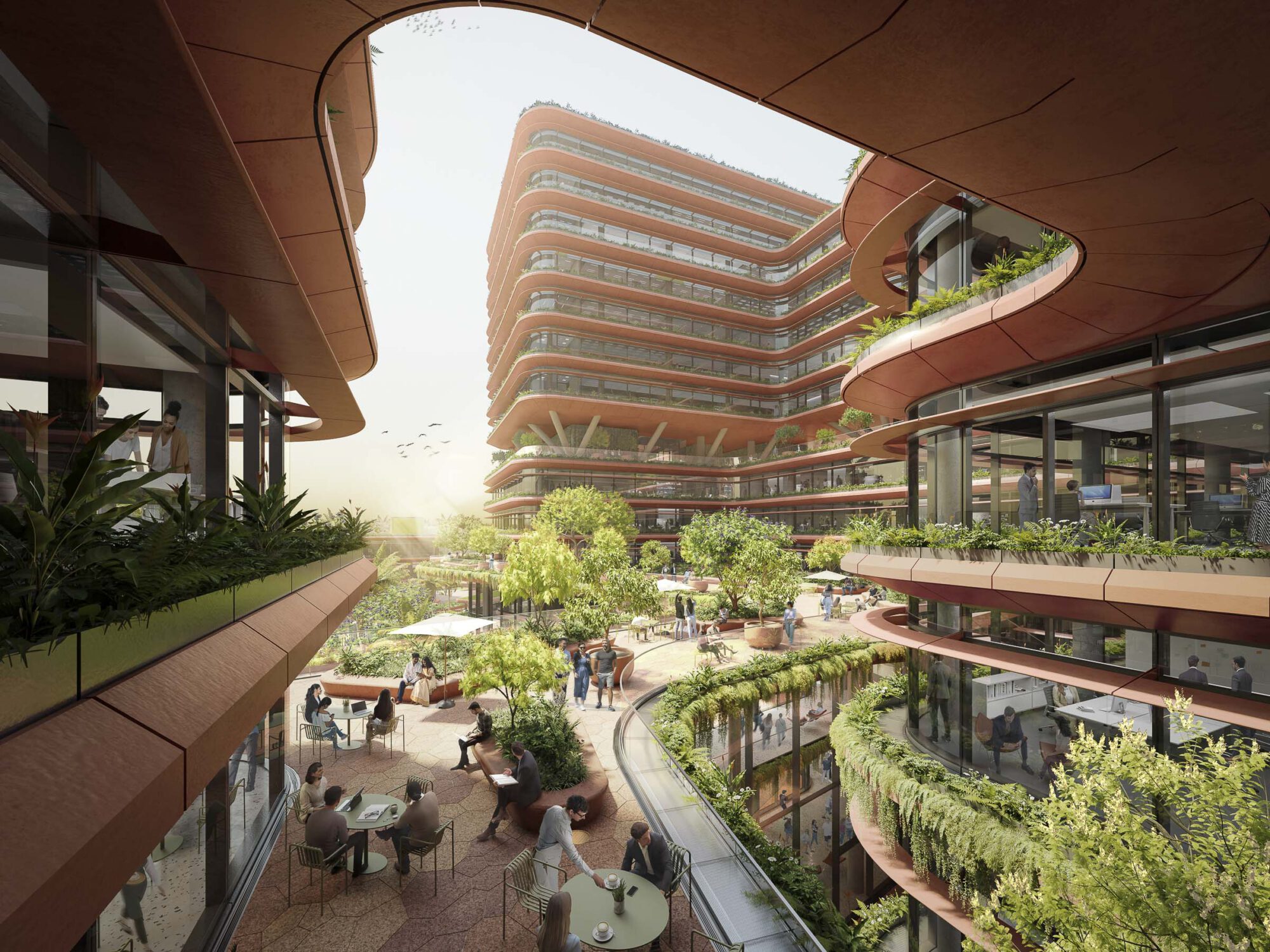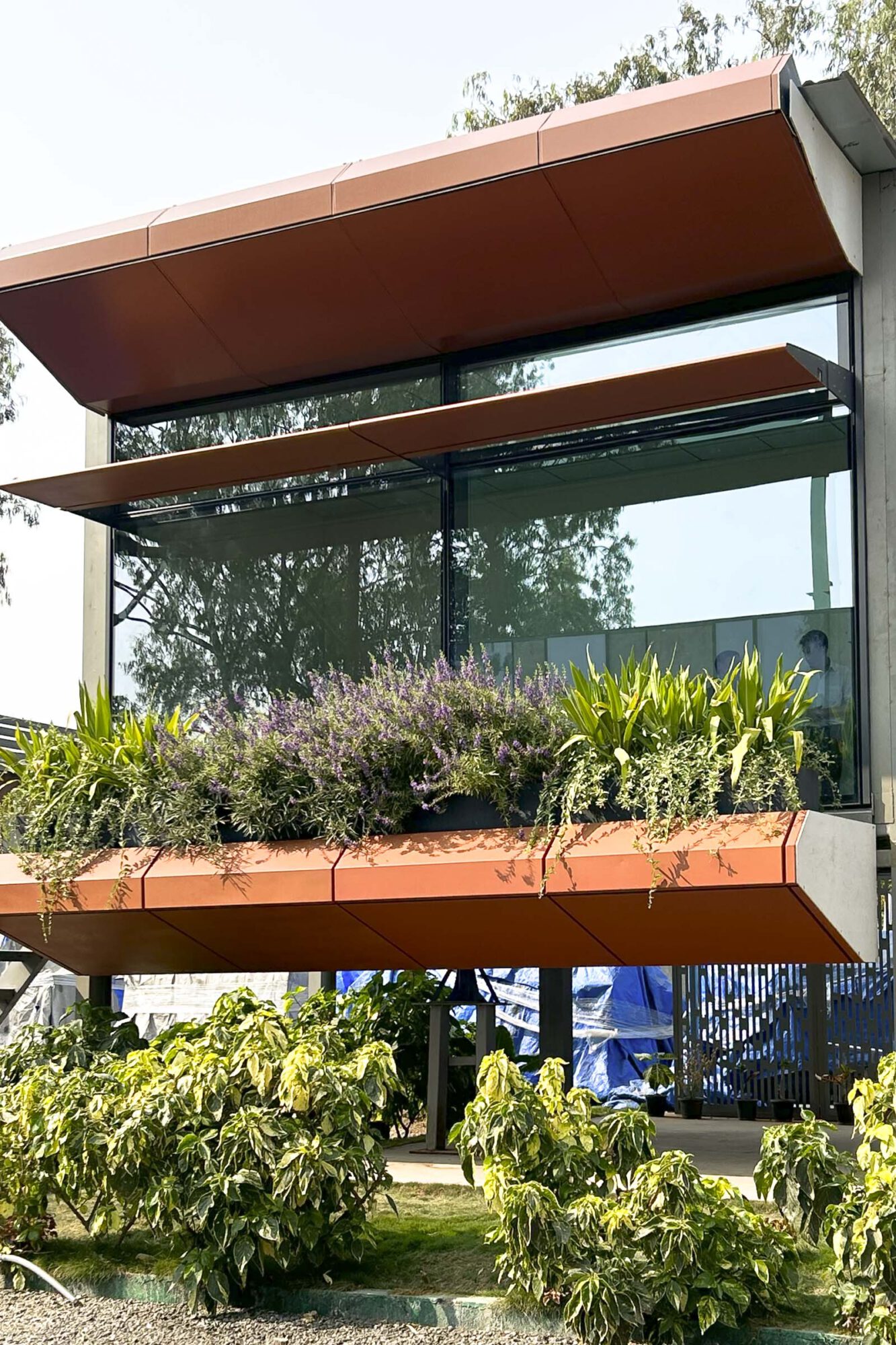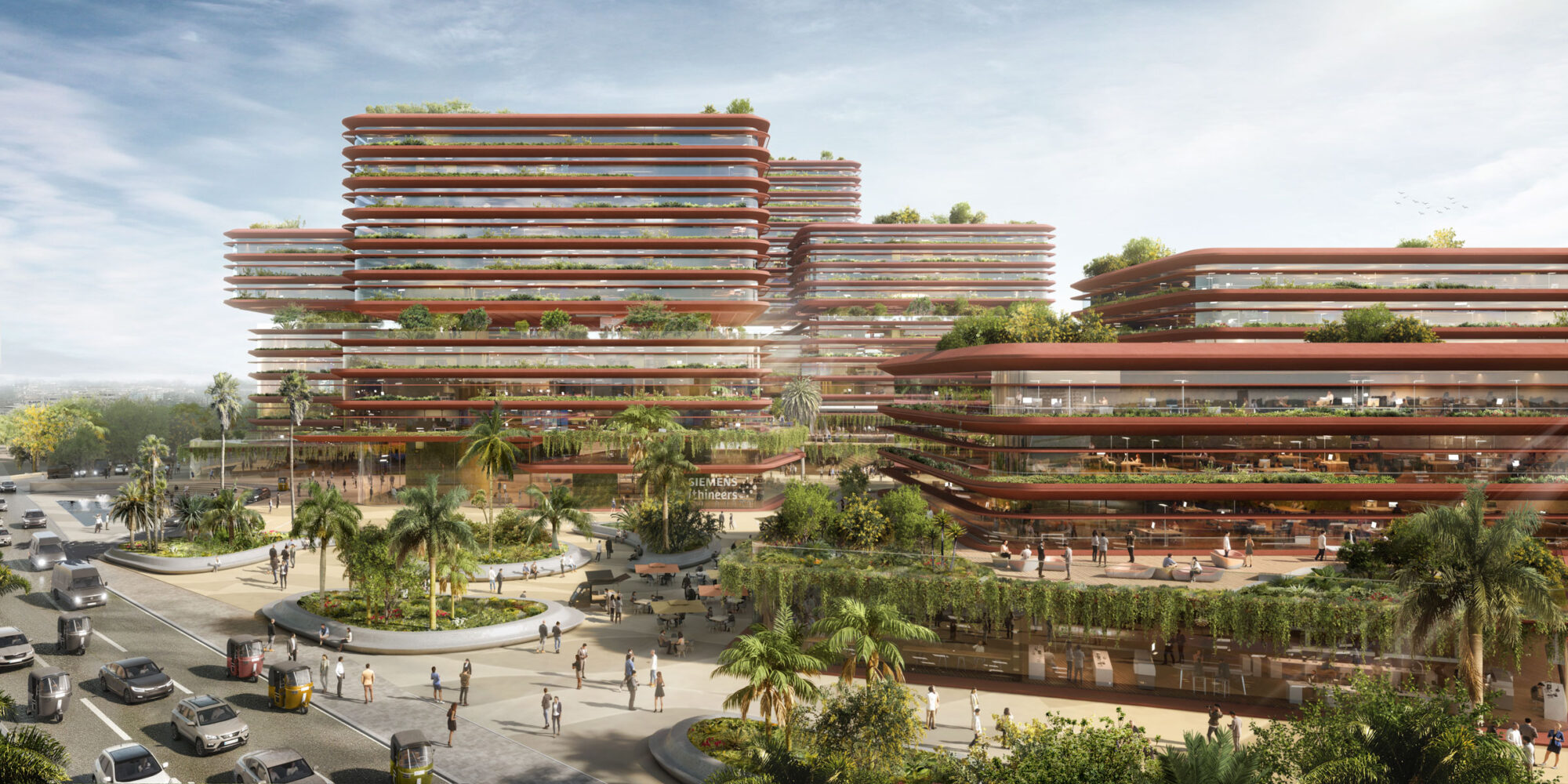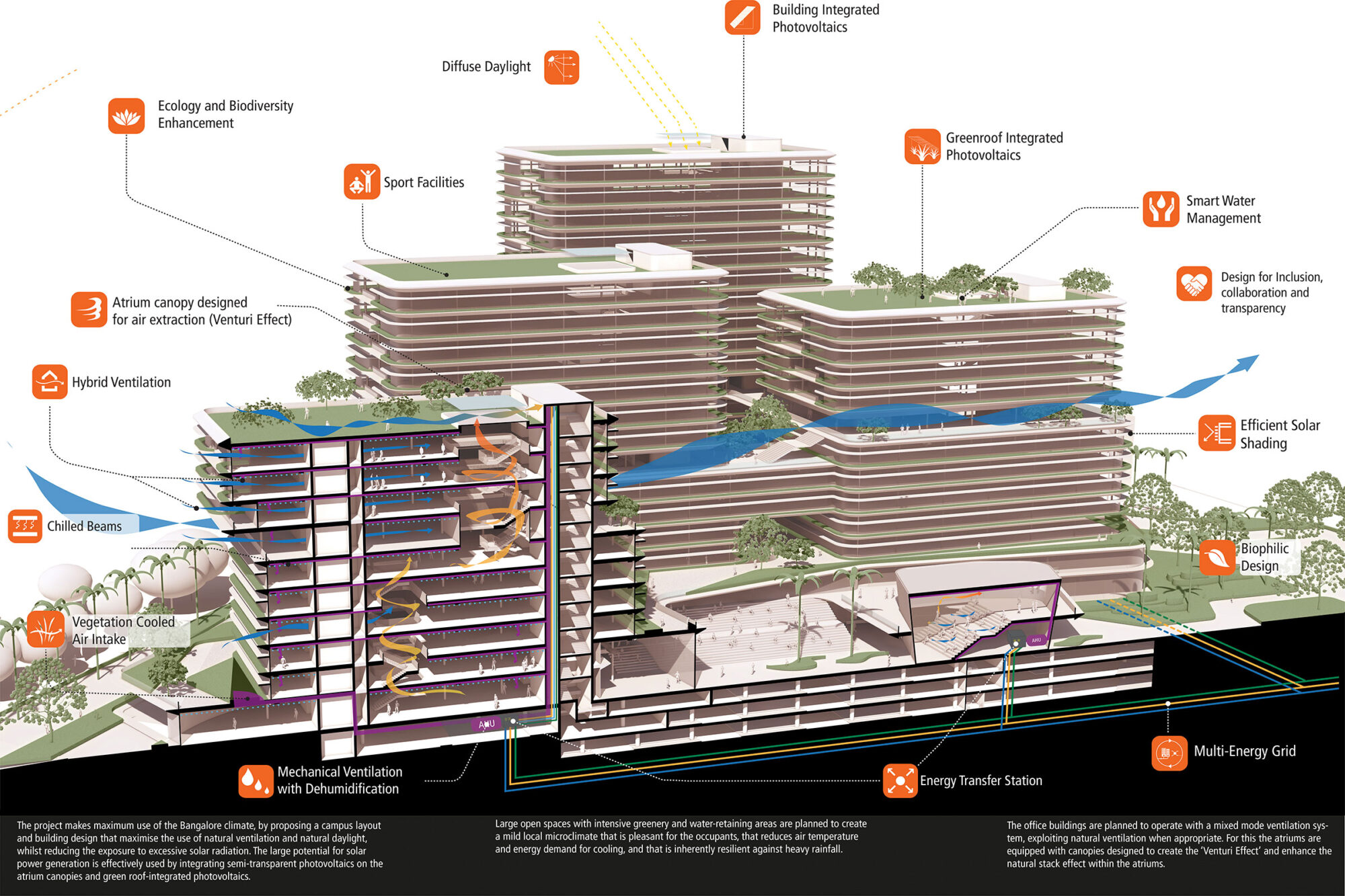 Siemens Healthineers' goal of becoming a carbon neutral company by their own emissions by 2030 receives extensive attention in the campus' differentiated sustainability concept. The project makes maximum use of Bengaluru's climate by proposing a campus layout and building design that maximises the use of natural ventilation and natural daylight while reducing exposure to excessive sunlight. The large potential for generating solar energy is effectively utilised by integrating semi-transparent photovoltaics on the atrium canopies and roof-integrated photovoltaics. Large open spaces with intensive greening and water retention areas are planned to create a mild local microclimate that is comfortable for users, reduces air temperature and energy demand for cooling, and is naturally resistant to heavy rainfall. The office buildings are operated with a mixed ventilation system that uses natural ventilation when required. For this purpose, the atriums are equipped with canopies that create a 'Venturi effect', enhancing a natural stack effect within the atriums.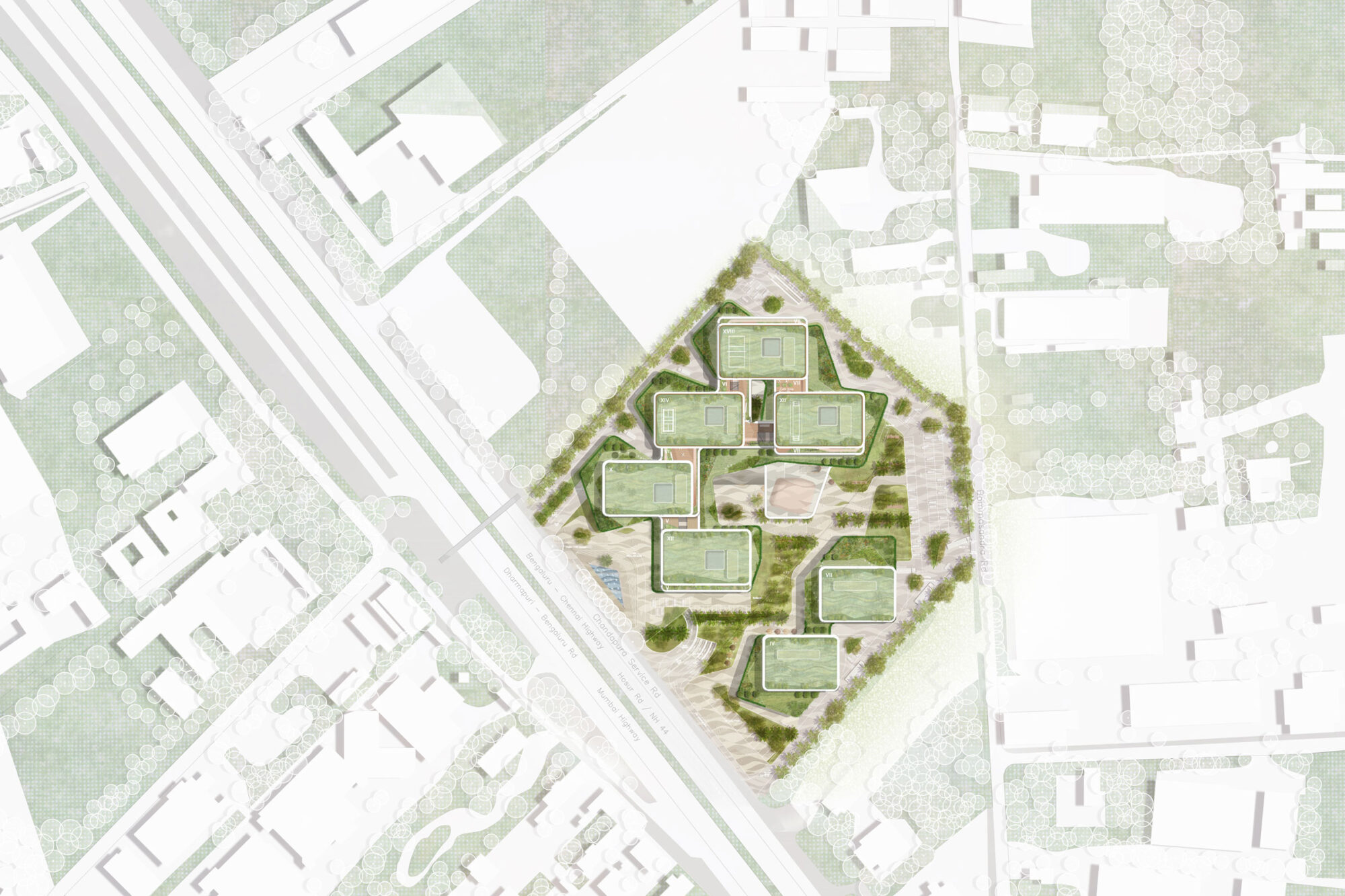 Siemens Healthineers AG (listed in Frankfurt, Germany: SHL) is shaping the future of healthcare. As a leading medical technology company headquartered in Erlangen, Germany, Siemens Healthineers enables healthcare providers worldwide through its regional companies to increase value by empowering them on their journey towards expanding precision medicine, transforming care delivery, improving the patient experience, and digitalizing healthcare.
Bengaluru, formerly Bangalore, is also called the new "Silicon Valley". The metropolis of 11.4 million has developed into one of the most important IT and high-tech locations worldwide and attracts numerous companies, from start-ups to global players. The economic upswing is also associated with rapid population growth; over 16 million inhabitants are forecast for 2030. The innovative and emerging business climate in Bengaluru is the reason for Siemens Healthineers to locate its Indian 'Innovation Hub' there.
Of the 22 applicants, in addition to Eller + Eller Architekten, a further 5 offices from from New York, London, Singapore, Copenhagen and Ahmedabad qualified for the final round of the international architecture competition, which started on 8 September 2020.
The jury, chaired by Prof. Erwin Viray, met on 19 and 20 January 2021 and selected Eller + Eller Architekten as the winner.
Engineering: Arup Deutschland GmbH, Berlin. Project leader: Rudi Scheuermann
Landscape Architecture: Rainer Schmidt Landschaftsarchitekten GmbH, Munich. Project leader: Rainer Schmidt
Renderings: moka-studio GbR, Hamburg
Architectureal model: Gonzales Modellbau, Berlin